In April, hundreds of attendees joined the North Carolina Clean Energy Technology Center (NCCETC) at NC State University to celebrate Earth Month at vehicle displays and Ride & Drive events hosted throughout North Carolina. 
The Clean Transportation program at NCCETC propels the development, awareness and use of alternative fuels and advanced transportation technologies. Ride & Drive and vehicle display events are one of the biggest opportunities to promote driver awareness and advance adoption of clean transportation technologies. These events allow drivers to experience driving electric and alternative fuel vehicles, find educational resources, and assimilate a wide variety of information about the vehicles' operability, handling, availability, costs, environmental benefits, fun factor and more. 
Explore the lineup of electric vehicles (EVs), plug-in hybrid EVs, alternative fuel vehicles (AFVs), and other clean transportation technologies featured at events hosted by NCCETC's Clean Transportation program in April through our photo gallery below. 
Clean Transportation Demonstration Days Give Government Entities Information & Experience
On April 11 and 12, NCCETC's Clean Transportation program hosted two Demonstration Days ‒  one in Garner, North Carolina and another in Jacksonville ‒ to give government entities across North Carolina and the Southeast the opportunity to access information and experience with clean transportation technologies.
REAL-WORLD CASE STUDY RESULTS & SUCCESS STORIES
At each demonstration day, attendees heard real-world case study results and success stories during the classroom instruction portion. Key speakers and presentations included NCCETC's Executive Director Steve Kalland, Heather Hildebrandt of the NC Department of Transportation, Annie Lee from the Triangle J Council of Governments' Clean Cities Coalition, Sam Spofforth of the National Renewable Energy Laboratory,  and representatives from companies leading the way in alternative fuel options, technologies, and more.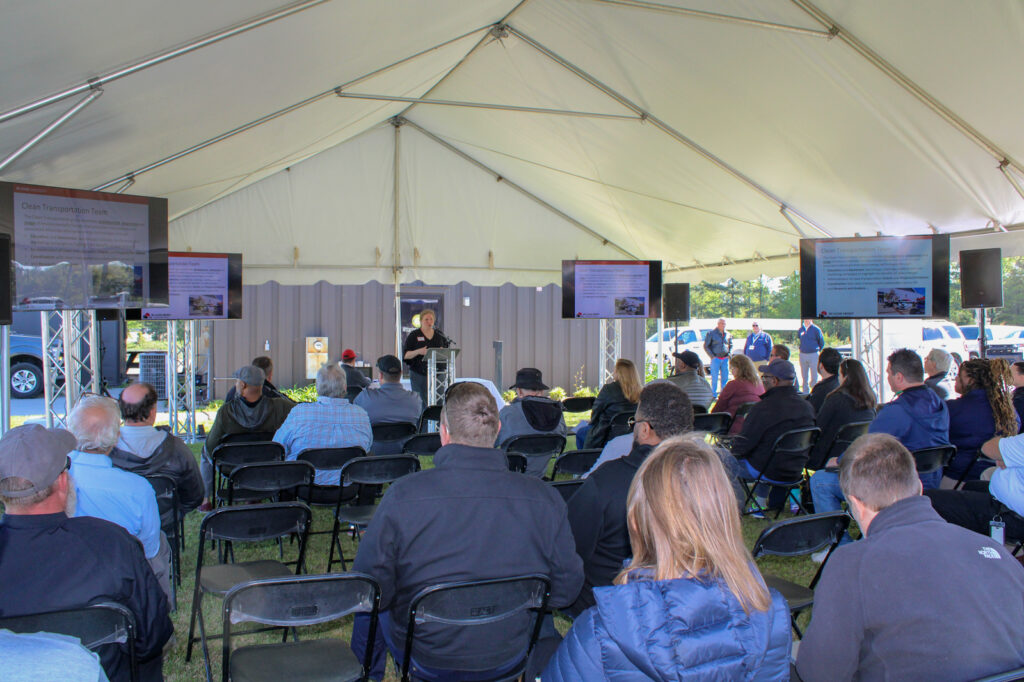 Pictured: Heather Brutz, Director of the Clean Transportation program at NCCETC, introducing keynote speakers and welcoming attendees to the Clean Transportation Demonstration Days on April 11 and 12, 2023.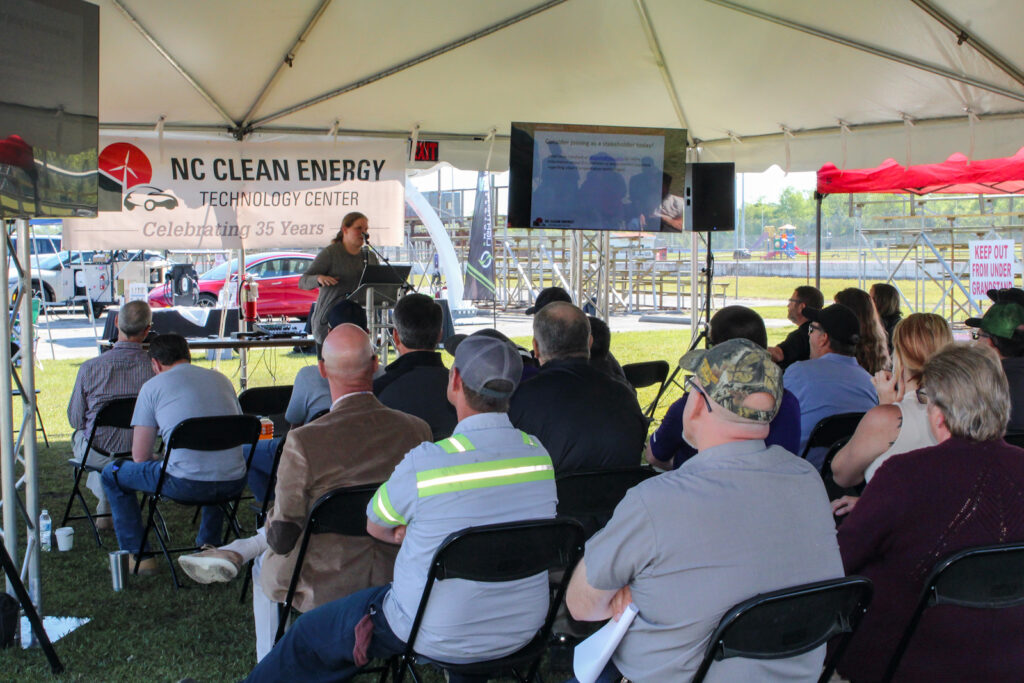 "Demonstration days give government employees hands-on experience with alternative fuel vehicles and valuable networking opportunities they can't find anywhere else," said Brutz. "This helps them feel empowered to share the benefits of clean transportation with others in their work."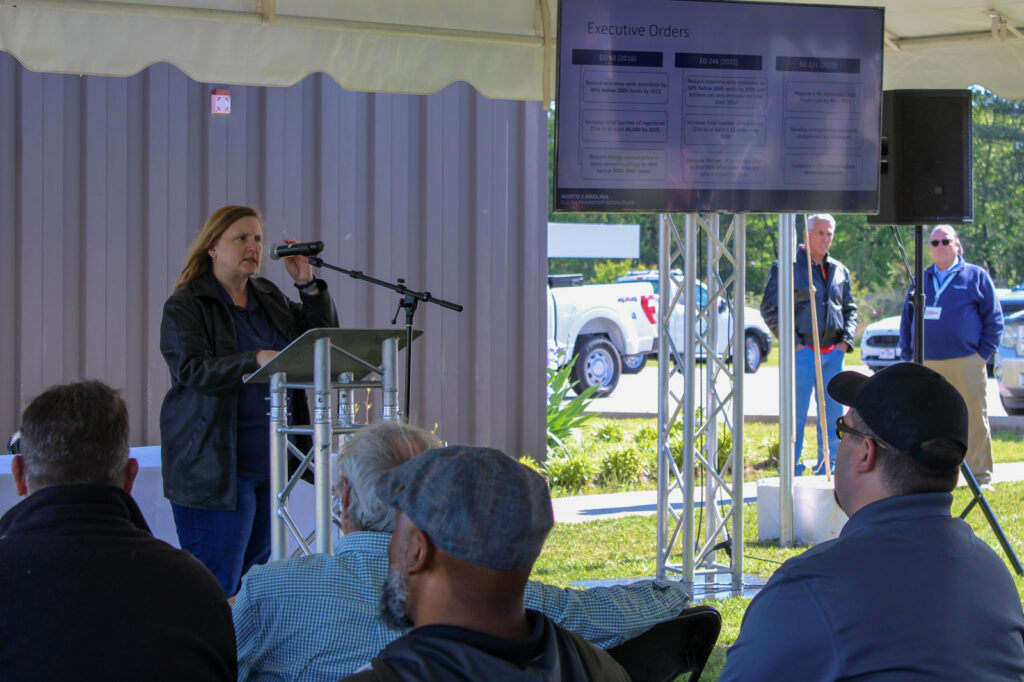 Heather Hildebrandt of the NC Department of Transportation oversees the Statewide Initiatives Group. Hildebrandt is pictured discussing current clean transportation-related executive orders on April 11 to event attendees. Executive orders 80, 24, and 271 have set statewide targets such as reducing economy-wide emissions, increasing the total number of registered zero-emission vehicles (ZEVs), and developing a NC Advanced Clean Trucks rule. 
Representatives from Alliance Autogas, Potter EV, Cenntro, Cary Cartco, Pioneer eMobility and Electrify EVSE presented on technologies and strategies like telematics, safety, idle reduction technologies, vehicle electrification, and other opportunities for improving fleet sustainability. Pictured, Pioneer eMobility's Director of Sales and Strategic Partnerships Scott Bradley discusses how the company has developed mobile off-grid charging solutions for EVs.
HANDS-ON EXPERIENCE 
Following classroom instruction, attendees were invited to view and test drive a diverse display of vehicles and alternative fuel technologies such as light-duty vehicles, buses, police vehicles, utility vehicles, charging equipment and more. Certain EVs and AFVs were also available for attendees to take for a test drive so they could experience the power of clean transportation themselves.
Ride & Drive Events for the General Public
NC State University and its local community were invited to test drive EVs at NCCETC's Earth Day EV Ride & Drive at The Corner on NC State University's Centennial Campus on April 21, 2023. Students as well as the surrounding community were invited to explore alternative fuel vehicles and grab lunch from a food truck across the street. Some of the vehicles featured at the event included a Tesla Model 3, Tesla Model Y, Tesla Model S, Ford F-150 Lightning, Ioniq Electric, Kia EV6, Kia Niro Electric, Nissan Leaf, Polestar 2, and a Toyota RAV4 Prime.
Look out for more Ride & Drive events you can attend this fall! Stay tuned and keep up with clean transportation news by signing up for the newsletter.