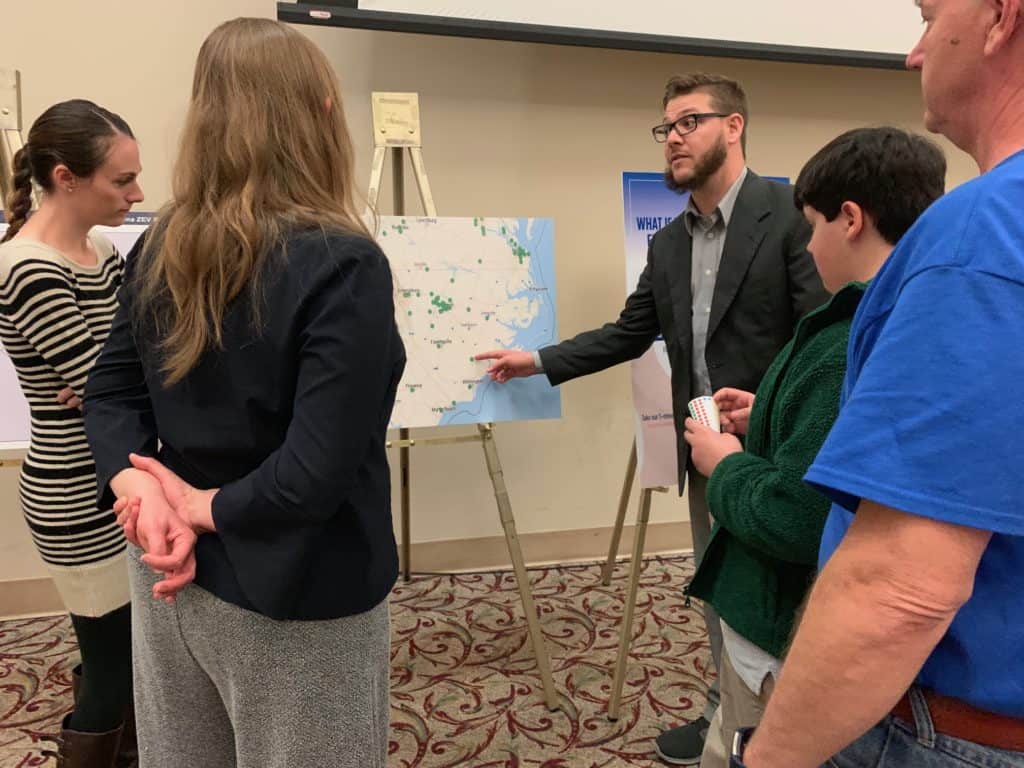 Last week, members of the public attended four Zero Emission Vehicle (ZEV) Information & Input Sessions hosted by the NC Clean Energy Technology Center and the NC Department of Transportation (NCDOT) at four locations in North Carolina, to gain information and provide feedback on Gov. Roy Cooper's Executive Order 80 and NCDOT's ZEV plan.
Late last year, Governor Roy Cooper instructed state agencies to make plans to promote clean energy in Executive Order 80. As part of the effort, NCDOT is creating a statewide plan to promote the use of clean transportation technologies and is looking for input from the public.
Gov. Cooper's Executive Order 80 plan is to increase the number of registered, zero-emission vehicles (ZEVs) to at least 80,000 by 2025. ZEVs, or vehicles that emit no exhaust gas from the onboard source of power, include battery electric vehicles and hydrogen fuel cell vehicles. According to EO80, the ZEV Plan should help establish interstate and intrastate ZEV corridors, coordinate and increase the installation of ZEV infrastructure, and incorporate additional best practices for increasing ZEV adoption when appropriate – by October 1, 2019. NCDOT's Zero-Emission Vehicle Plan is designed to achieve the ZEV target and address those topics of ZEV corridors and ZEV infrastructure.
"Executive Order 80 represents a chance for North Carolina to really move forward in regards to the adoption of zero emission vehicles," said Heather Brutz, Finance & Operations Manager of the Clean Transportation Program at NCCETC. "Right now – while these plans are still being written – is the best time for the public to weigh in with any ideas they might have on how they would like to see plans move forward."
Speakers present at the ZEV sessions were Jeremy Tarr, Policy Advisor for the Governor's Office; Heather Hildebrandt with NCDOT, and members from NCCETC's planning partners, including the Land of Sky Clean Vehicles Coalition, Centralina Clean Fuels Coalition, and the Triangle Clean Cities Coalition.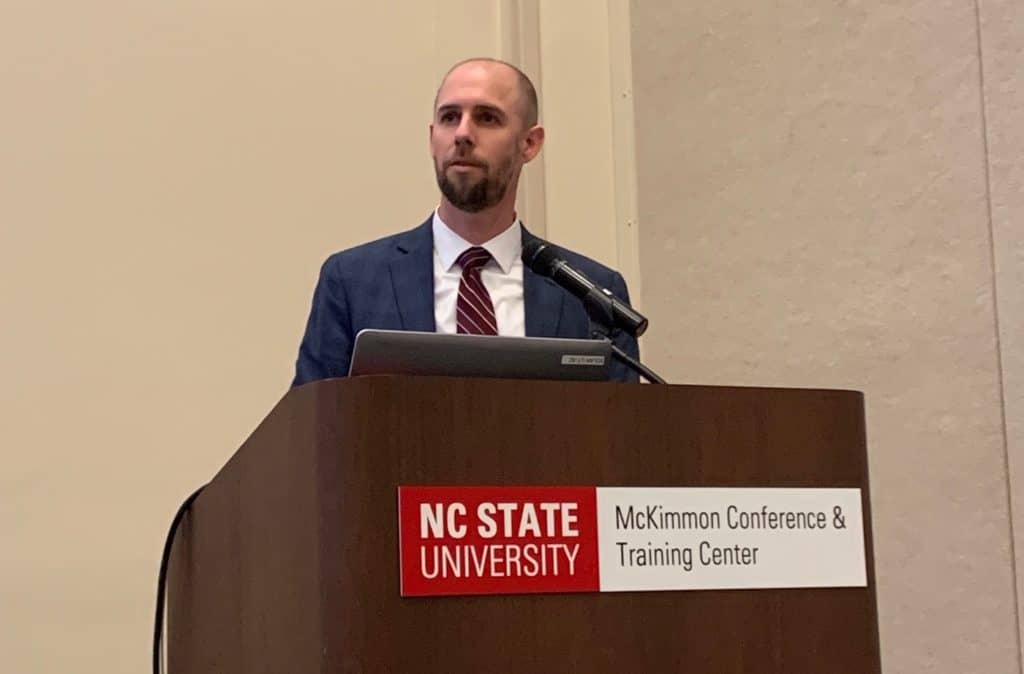 Tarr laid out details of Governor's EO80 plan, expressing why it is so important to accomplish – pointing to North Carolina's recent hurricanes and floods.
"We have to think ahead and prevent this kind of devastation in the future," Tarr said. "We should be rebuilding in a way that's going to be resilient."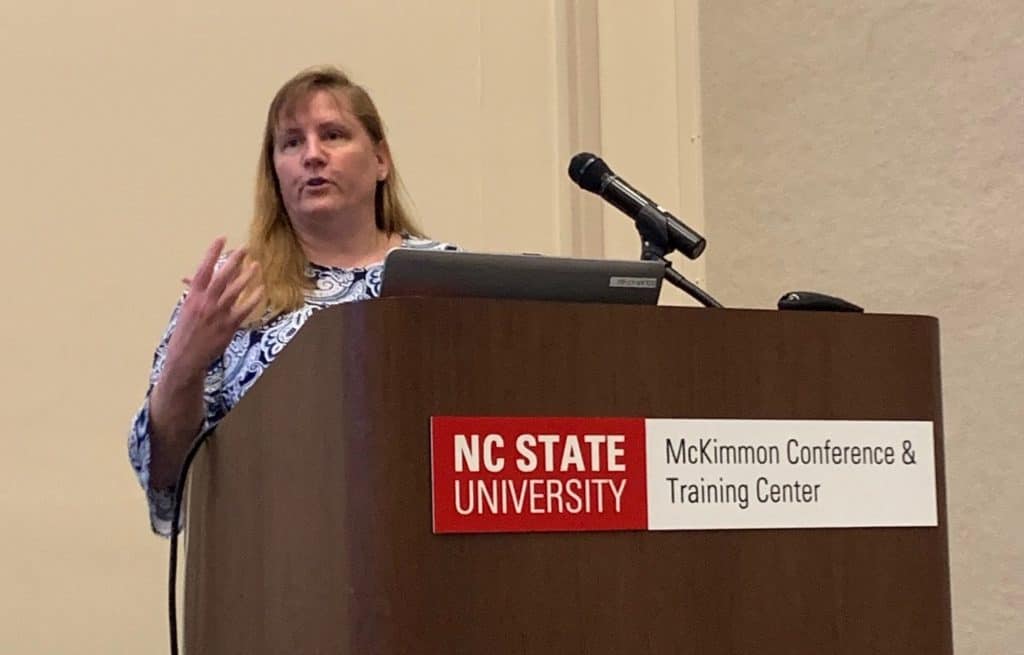 Hildebrandt presented a map of North Carolina showing FHWA Designated EV Recharging Corridors – showing locations where signage is ready, pending and not ready.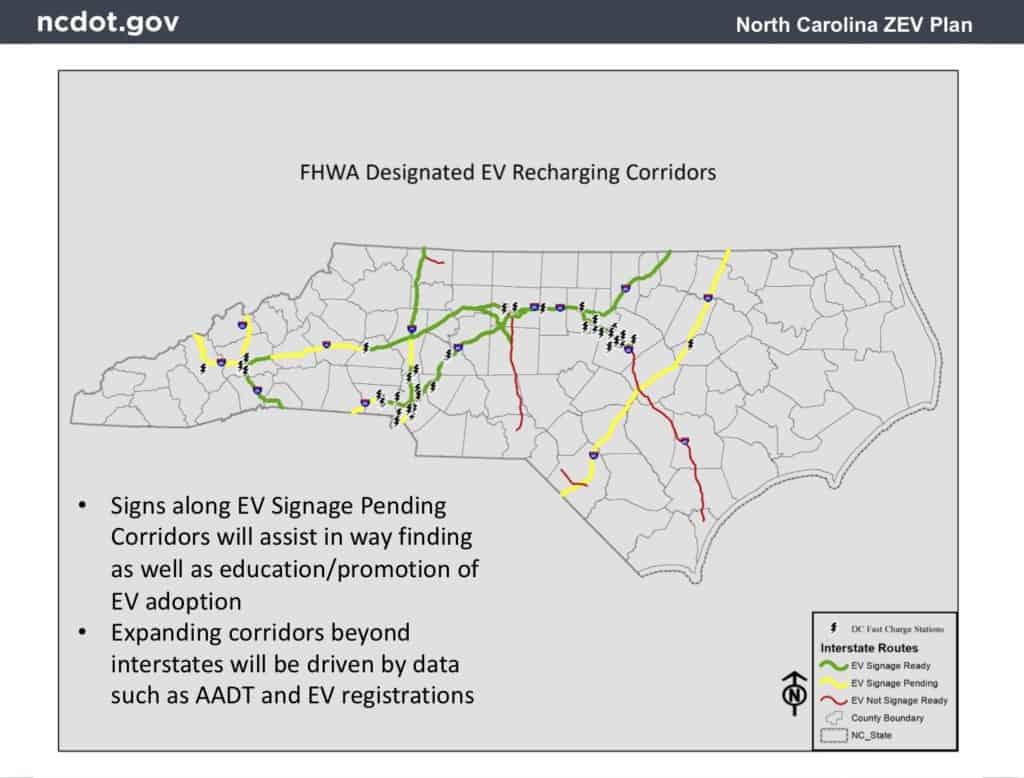 She also presented a map of North Carolina's Priority Corridors, showing travel patterns in the state.
To learn more about NCDOT's clean energy and climate change work, visit the website here. You can provide feedback to NCDOT by completing an EV adoption survey here. The survey includes a map feature where you can drop pins in locations you'd like to see EV chargers.
More than 16 states have completed or initiated ZEV and EV planning activities in 2018, from Colorado to Hawaii to Rhode Island, said Allison Carr, Clean Transportation Specialist at NCCETC.
Some states are updating plans more than 5 years old, and others are responding to new statewide goals (related to energy, GHGs, or transportation). The common themes among the states seem to be ZEV availability for consumers and automaker (OEM) and dealer collaborations; planning for education and awareness; need for consistent, supportive and innovative policies for state, city level and public utilities; and buildout and planning for charging infrastructure. New and emerging themes have included ZEV planning that builds on existing EV planning activities or related to statewide energy goals; mobility services as part of ZEV planning, such as exploring and establishing connections with transportation network companies (TNC) like Uber and Lyft; consideration of extreme weather and resiliency; and future planning for inclusion of medium- and heavy-duty vehicles and charging infrastructure.
Take a look to see what other states are doing in Carr's Powerpoint presentation here.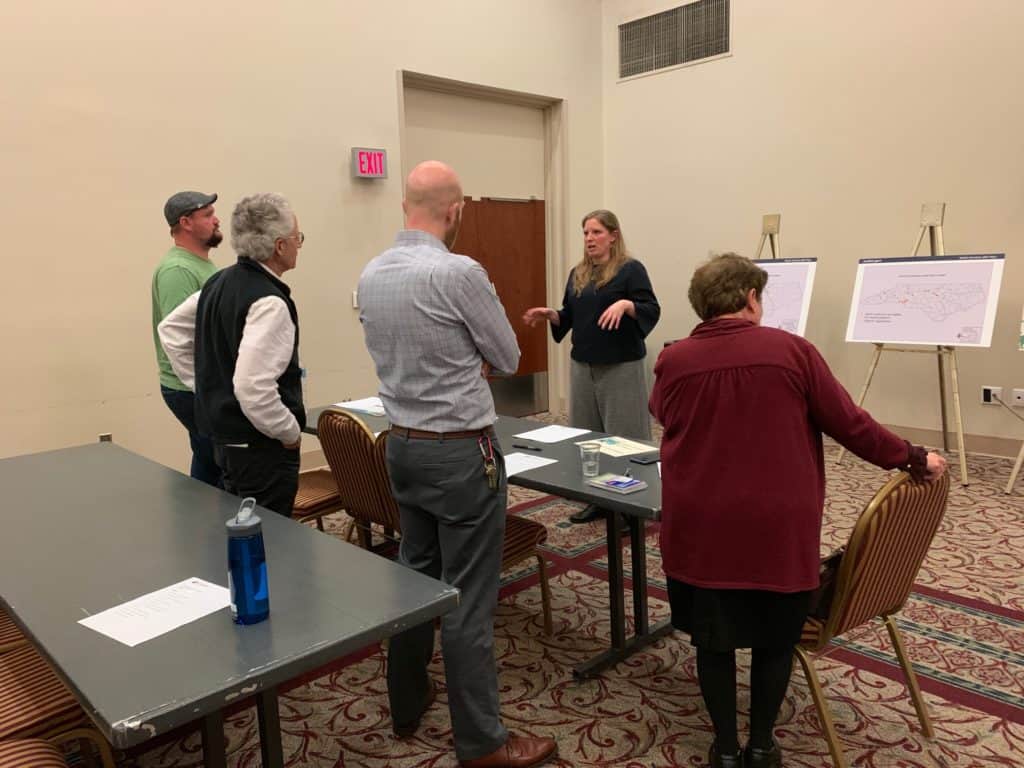 After the expert presentations, guests branched out into groups to discuss their thoughts and ideas on alternative fuel corridors, barriers to adoption of EVs, best practices to promote adoption, and prioritizing funding for ZEVs and infrastructure. Questions included: How should public funding of EV charging infrastructure be prioritized (both Level 2 and DC fast chargers) in North Carolina? What are the top five barriers to ZEV adoption that should be addressed within the next two years? What areas do you think need a DC fast charger? Guests also viewed a map of current corridors in North Carolina and added dots to locations they'd like to see more EV chargers.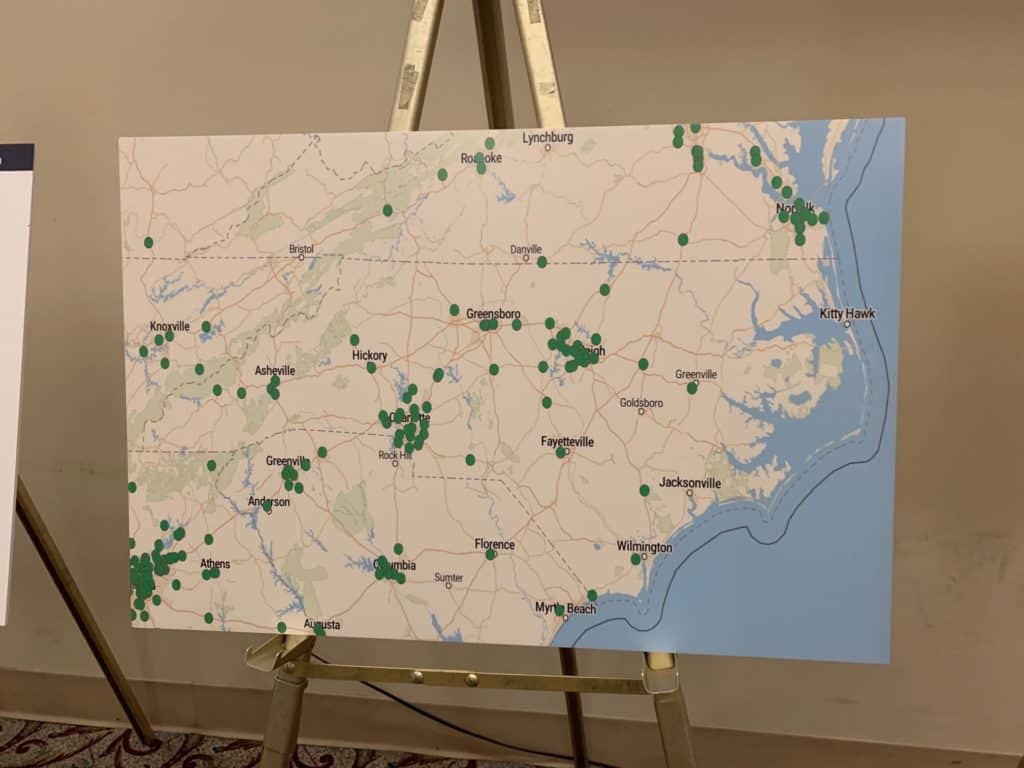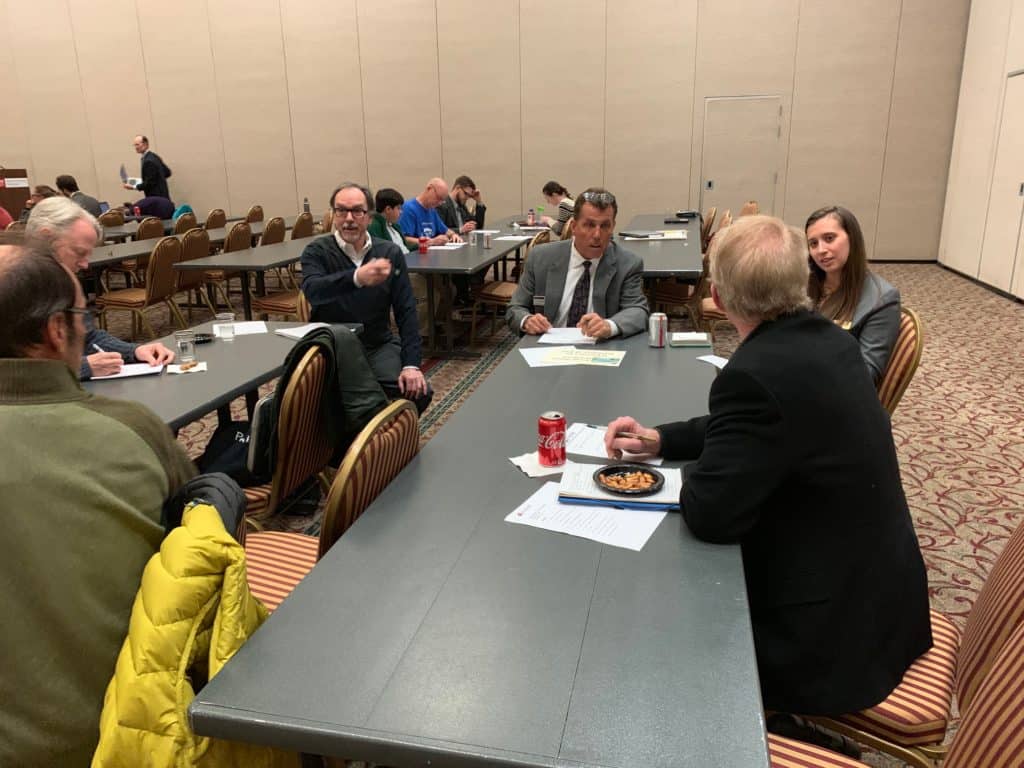 If you missed the ZEV sessions, you can still provide feedback. Go here to download and fill out our worksheets. You can email worksheets to Rick Sapienza at resapien@ncsu.edu.
Also, on Tuesday, April 23 from 2 to 3:30 p.m., tune in to a free NC ZEV Information & Input Webinar with NCCETC and NCDOT to cover the same subjects. Click here to register now.
"This is your opportunity to weigh in," said John Bonitz, Clean Transportation Specialist at NCCETC. "Tell us where the charging stations need to be, give us your practical experience or practical concerns."
"It's important right now because there's momentum in this conversation," said Allison Carr, Transportation Specialist at NCCETC. "There's support from the Governor, and there's Volkswagen funding available that will contribute to funding designated for EVSE."
To view Powerpoint presentations from the ZEV sessions, go here.
Keep up to date with the latest news from the Governor's Office here, NCDOT's plan here, and with NCCETC at nccleantech.ncsu.edu and FuelWhatMatters.org.

"For these strategies going forward to be lasting, we need everyone's input," Tarr said.