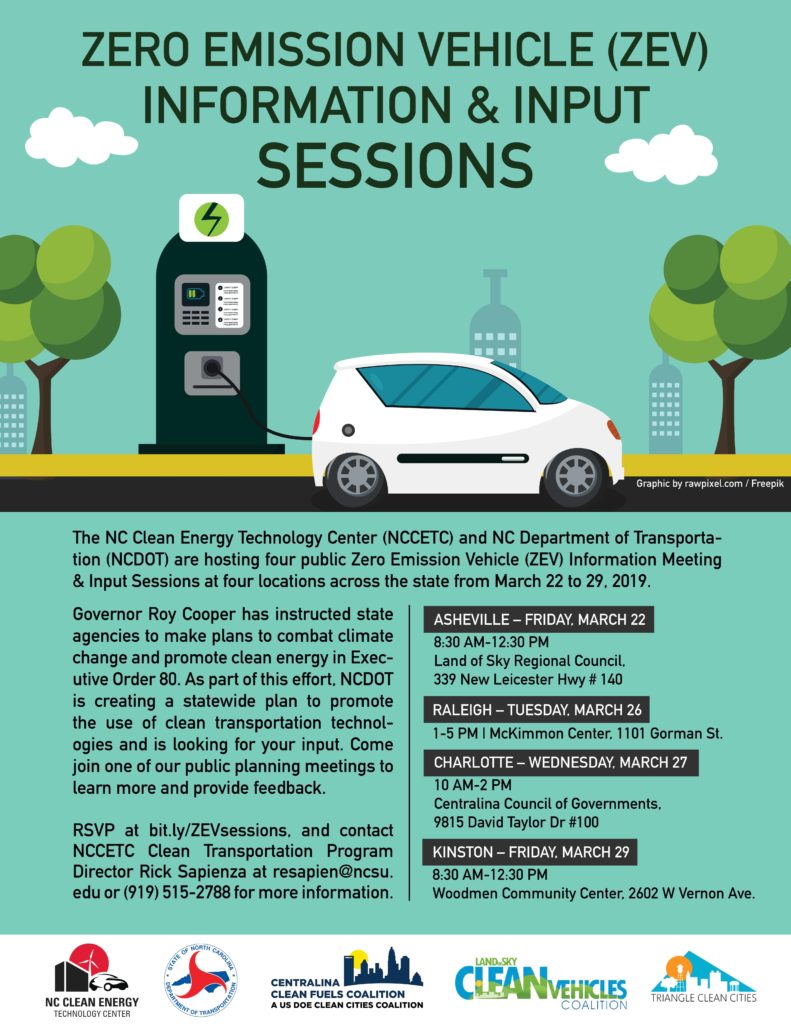 The North Carolina Clean Energy Technology Center (NCCETC) and NC Department of Transportation (DOT) are hosting four public Zero Emission Vehicle (ZEV) Information & Input Sessions at four locations across the state from March 22 to 29, 2019.
Governor Roy Cooper has instructed state agencies to make plans to promote clean energy in Executive Order 80. As part of this effort, the NCDOT is creating a statewide plan to promote the use of clean transportation technologies and is looking for input. 
The public is invited to join the planning meetings to learn more and provide feedback.
Asheville
Friday, March 22
8:30-12:30 pm
Land of Sky Regional Council
339 New Leicester Hwy # 140, Asheville, NC 28806
Raleigh
Tuesday, March 26
1-5 pm
McKimmon Center (1101 Gorman St, Raleigh, NC 27606)
Charlotte
Wednesday, March 27
10 am – 2 pm
Centralina Council of Governments (9815 David Taylor Dr #100, Charlotte, NC 28262)
Kinston
Friday, March 29
8:30 am – 12:30 pm
Woodmen Community Center (2602 W Vernon Ave, Kinston, NC 28504)
Please RSVP by visiting http://bit.ly/ZEVsessions.
NCCETC's planning partners include the Land of Sky Clean Vehicles Coalition, Centralina Clean Fuels Coalition, and the Triangle Clean Cities Coalition.
For more information, contact Rick Sapienza Director of the Clean Transportation Program at the NC Clean Energy Technology Center, at resapien@ncsu.edu or (919) 515-2788.