2022 was another busy year at the NC Clean Energy Technology Center (NCCETC) as our staff worked with partners in government, industry, academia and other community members to promote and advance the development and use of clean energy in ways that stimulate a sustainable economy while reducing dependence on foreign sources of energy, and mitigating the environmental impacts of fossil fuel use.
Read our synopsis of program and project highlights from NCCETC's 2022 to catch up.
In January 2022, six students completed a 40-hour Fundamentals of Solar Photovoltaic Design and Installation (FSPV) training course customized by the NCCETC for the Centre for Homeownership and Economic Development. The in-person course covered the fundamentals of the design and installation of a solar photovoltaic system and included a hands-on day where participants installed a grid-tied photovoltaic system. NCCETC also hosted a custom Solar & Clean Energy Fundamentals Workshop for the South Carolina Energy Office Online Program in May 2022. The course was based on the Center's Certificate for Renewable Energy Management program and, in total, 62 attendees completed the custom course. Learn more about customized training offered by the NCCETC here.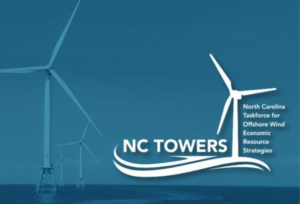 NCCETC staff are working with the NC Department of Commerce and other organizations to find ways to advance offshore wind energy projects in the state, with a focus on economic development and job creation. NCCETC is currently serving as a member for the new North Carolina Taskforce for Offshore Wind Economic Resource Strategies, or NC TOWERS, which was established by Executive Order 218 to affirm North Carolina's commitment to offshore wind power as the state transitions to a clean energy economy. The Taskforce will provide expert advice to Governor Cooper and state policymakers for developing the state's offshore wind supply chain, workforce, and infrastructure. NC TOWERS met for its inaugural session on February 3, 2022.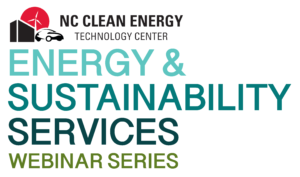 As part of the Energy & Sustainability Services Webinar Series, NCCETC hosted two webinars in 2022. NCCETC's Energy and Sustainability Services (ESS) is a suite of services from the Center aimed at optimizing sustainability and energy-related objectives for business, industry, government and utilities. The first webinar, Renewable Natural Gas – A Primer on North Carolina's Biogas Resources, was hosted in March and featured an overview of animal waste anaerobic digestion, the decarbonization of the natural gas supply, and state and federal policies that incentivize development of renewable natural gas projects. View the full webinar recording online for free.
The second ESS webinar brought together NCCETC staff and stakeholders to highlight innovations in managed charging and recent electric vehicle policy trends in the United States in a session titled 50 States of Electric Vehicles and Innovations in Managed Charging. NCCETC's Senior Clean Transportation Specialist Lisa Poger moderated the panel discussion with Brian Lips of NCCETC, Elaine Jordan of Duke Energy and Jacqueline Piero of The Mobility House.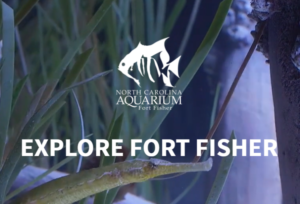 Staff from NCCETC's Clean Power & Industrial Efficiency program conducted a technical and financial feasibility analysis to evaluate the feasibility of an innovative solar plus energy storage installation at the NC Aquarium at Fort Fisher. The proposed design concept has a unique feature: the solar installation will float on top of a pond located behind the Fort Fisher Aquarium, taking advantage of underutilized land while allowing for cooling of the solar panels which improves efficiency.
On April 26 and 27 of last year, over 700 clean energy professionals joined the NCCETC for the 2022 State Energy Conference of North Carolina, which returned in-person in Raleigh, NC for the first time since 2019. Attendees were able to be a part of the clean energy discussion over two days of live sessions where they listened to and connected with industry leaders while sharing their own ideas about North Carolina energy's present and future.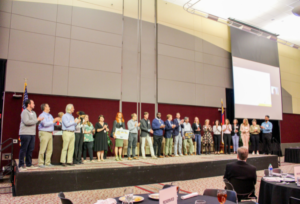 During the second day of the conference, attendees came together to recognize new and existing SolSmart Communities across North and South Carolina who have worked to make it faster, easier and more affordable to go solar in their jurisdictions. The NCCETC served as SolSmart advisors to provide technical assistance to communities in North Carolina, South Carolina and Florida to help them receive a national SolSmart designation of Gold, Silver or Bronze based on actions across permitting and inspection, planning and zoning, government operations, community management and market development. There are now 19 communities across South Carolina and North Carolina that have achieved SolSmart designation.
NCCETC staff began working with the researchers and analysts behind the Public Utility Data Liberation (PUDL) project in mid-2022 to process and integrate data from the Database of State Incentives for Renewables and Efficiency (DSIRE) into the project's dataset for "Machine Readable Clean Energy Standards." The goal is to compile a programmatically usable database of Renewable Portfolio Standards and Clean Energy Standards policies for quick and easy reference by researchers.
The Eastern Band of Cherokee Indians (EBCI) are leading the way with cleaner student transportation in North Carolina. Following their groundbreaking award of VW Settlement funds for a new electric school bus in 2021, the EBCI received notice from the U.S. Environmental Protection Agency (EPA) for an award for four additional electric school buses in 2022. EBCI will be replacing five diesel school buses with four new electric buses in collaboration with the Cherokee Boys Club (CBC) and the NCCETC. This award marked The Eastern Band as the first tribe east of the Mississippi to be awarded grant funding through the Diesel Emissions Reduction Act (DERA) Program administered by the EPA.
In August 2022, NCCETC joined a collaborative effort among state government, utility companies, industry and universities to design an advanced microgrid control architecture to ultimately improve the resilience and reliability of the regional grid. The NCCETC staff are supporting the team from UNC Charlotte's Energy Production and Infrastructure Center (EPIC), which won a Research Grant entitled "Resilient Community Microgrids with Dynamic Reconfiguration to Serve Critical Loads in the Aftermath of Severe Events" from the U.S. Department of Energy.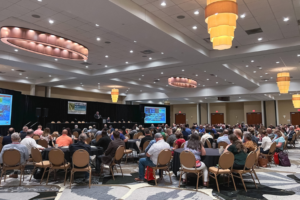 At the end of August, the NCCETC welcomed more than 350 registered attendees in Durham, NC for the 2022 Sustainable Fleet Technology Conference & Expo. The conference showcased the latest and greatest technologies in the biofuels, electric, natural gas and propane arenas – including everything from Progress Solar's latest mobile solar electric vehicle (EV) charging model to the diverse display of alternative fuel vehicles and other clean transportation technologies.
Stakeholders and end-users came together on a webinar in September 2022 to discuss the role that combined heat and power (CHP) has in advancing sustainable and resilient wastewater treatment plants in Florida and across the region. The webinar – Operating Sustainable and Resilient Wastewater Treatment Plants with Combined Heat and Power – was hosted by the U.S. Department of Energy Southeast Combined Heat and Power Technical Assistance Partnership (CHP TAP) based at the NCCETC at NC State University. The full recording is available here.
The NCCETC concluded two projects in October focused on community solar access and achieving resilience benefits for low and moderate-income communities. The projects – Community Solar Access for Low and Moderate-Income Utility Customers, and Achieving Resilience Benefits Through Utility Solar + Storage Deployment in Low-Income Communities – were funded through the American Rescue Plan Act (ARPA). 
Near the end of 2022, the NCCETC announced that it was selected to receive a $1 million award from the U.S. Department of Energy (DOE) Solar Energy Technologies Office (SETO) to enable communities to use solar and solar-plus-storage to enhance resilience and prevent disruptions in power caused by extreme weather and other events. This project, titled Resilient Renewable Energy to Diminish Disaster Impacts on Communities (Resilient REDDI Communities), will develop a novel set of resiliency metrics and create a playbook to guide emergency managers and their communities to assess and implement enhanced energy resilience strategies to mitigate the effects of energy loss during a disaster.

To conclude the year, we took a look back on 35 highlights from over the years to kick-off the celebration of NCCETC's 35th anniversary. For the last 35 years, the Center has worked closely with partners in government, industry, academia, and the non-profit community while evolving to include a greater geographic scope and array of clean energy technologies. As a result of this evolution, the Center has grown into a state agency respected for its assistance to the burgeoning "clean tech" sector in North Carolina, as well as one of the premier clean energy centers of knowledge in the United States.
Thank you for helping us make 2022 a great year!

For a look at our most recent fiscal year accomplishments, review our 2021-2022 Annual Report, which covers NCCETC's major projects from the last fiscal year along with operating budget statistics and highlights.
To keep in touch monthly with the latest news from the Center and our programs, consider signing up for our newsletters!  Sign up online. 
This end of year review summarizes a few of the project and program highlights that made 2022 a successful year at NCCETC!  We are looking forward to continuing even more important and exciting work in 2023.