Last month, more than 400 attendees joined the North Carolina Clean Energy Technology Center (NCCETC) in Raleigh, NC for the 2023 Sustainable Fleet Technology Conference & Expo (SFT). Conference guests were able to discover the latest and greatest in sustainable fleet technology, operations and implementation over the course of three days while networking with other fleet professionals and technology providers.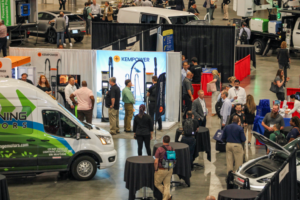 "The SFT Conference this year gave fleet and transportation experts a valuable platform to explore cutting-edge vehicle technologies, as well as tools and resources tailored to enhance efficiency and emissions reduction," said Heather Brutz, Director of the Clean Transportation program at NCCETC.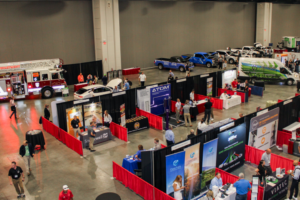 In its seventh year, the annual SFT Conference returned to the Raleigh Convention Center where the inaugural conference was held in 2017. The Raleigh Convention Center's large exhibit halls were the perfect space to display all of the heavy, medium, and light-duty vehicles in addition to transportation and charging technologies for attendees to explore during expo hall hours.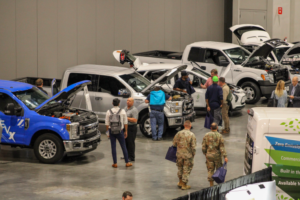 The exhibit hall was brimming with exhibitors for the 2023 conference including AssetWorks; Alliance Autogas; Kempower; Southeast Propane Alliance; Propane Education & Research Council; Centralina Clean Fuels Coalition; Land of Sky Clean Vehicles Coalition; Triangle Clean Cities Coalition; Lightning eMotors; Advanced Energy; DC-America; Daimler Truck NA/Thomas Built Buses/Freightliner Custom Chassis; North Carolina Department of Transportation; Piedmont Natural Gas; Verizon Connect; Pakistan Smart Energy; ZEVX Inc.; Guardian Fueling Technologies; bp pulse; Revels Turf & Tractor Co.; Forward Thinking Systems, LLC; Atom Power; Sourcewell; NAFA Fleet Management Association; Pioneer Power e-Mobility Solutions; Viatec; The Goodyear Tire & Rubber Company; ROUSH CleanTech; Faster Asset Solutions; Webasto Charging Systems, Inc.; and PortFi.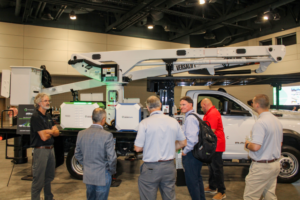 Pictured: Attendees gathered around a display of Viatec's flagship electric power take-off (ePTO) product, SmartPTO, which can be retrofitted to fleet vehicles and provides the benefits of enhanced safety, reduced maintenance, lower cost of ownership, and social responsibility for electric utility providers.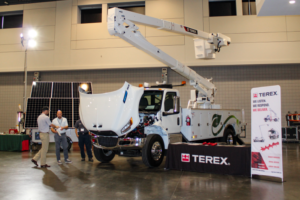 Pictured: The industry's first and only production all-electric bucket truck which debuted last year thanks to a unique collaboration between Viatec, Terex and Navistar/International Trucks.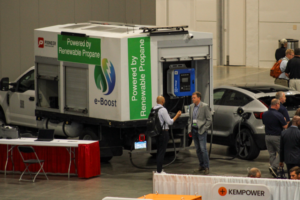 Pictured: Pioneer Power Mobility's e-Boost mobile electric vehicle (EV) fast charging solution plugged into a Volvo's first all electric crossover C40 Recharge.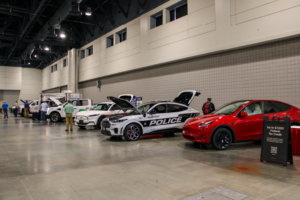 Pictured: The City of Durham's Mach-E and City of Charlotte's Ford F150 and Mach-E fleet vehicles.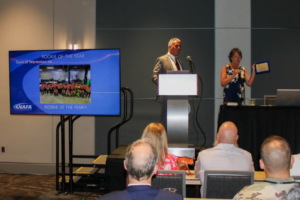 On August 14, 2023 the winners of the 16th annual Green Fleet Awards were announced by NAFA Fleet Management Association (NAFA) during the pre-conference day at the 2023 SFT Conference.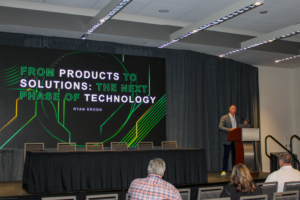 Pictured: Ryan Krogh, Manager of Production System Solutions at John Deere, delivered the opening keynote, From Products to Solutions: The Next Phase of Technology.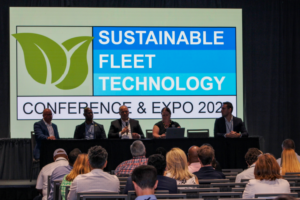 Pictured: The keynote plenary, From Good Ideas to Success Stories, featured a panel moderated by Leigh Shamblin, Director of Leadership and Professor of Practice for NC State University Poole College of Management and also included Jamie Cooke, Chief Operating Officer for the Department of Generals Services in Montgomery County, Maryland; Al Curtis, Fleet Services Director for Cobb County, Georgia; and Rick Longobart, Fleet Operations Manager for the City of Raleigh, North Carolina.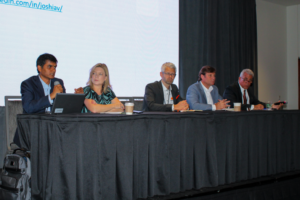 Pictured: Ameya Joshi from Corning, Inc. was on the panel for the Advancements in Medium/Heavy Duty Vehicles and Infrastructure keynote plenary along with Rick Sapienza from NCCETC, Mark Childers from Thomas Built Buses, Stuart Weidie from Alliance AutoGas, Jennifer Weaver from Clean Fuels Alliance America, and Marcus Suvanto from Kempower.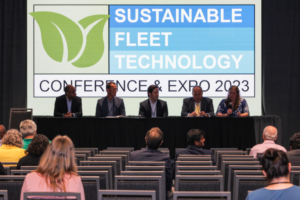 Pictured: The final keynote plenary, Advancements in Light Duty Vehicles and Infrastructure, was moderated by Heather Brutz of NCCETC. She was joined by Brian Bradford, Chief Commercial Officer of Jule Power; Bob Glaser, President of the North Carolina Automobile Dealers Association; Ryan Kennedy, Co-Founder and Chief Executive Officer of Atom Power; and Chris Thomas, Government Sales Manager at Stellantis.
The 2023 SFT Conference offered 12 breakout sessions across three tracks related to Funding and Planning, Vehicle Technologies, and Fueling and Charging Infrastructure. Pictures from several breakout sessions can be seen below.
The NCCETC hosts the annual Sustainable Fleet Technology Conference as part of its mission to advance a sustainable energy economy by educating, demonstrating and providing support for clean energy technologies, practices and policies.
PowerPoint presentations will be available in the coming weeks at www.SustainableFleetExpo.com. Stay tuned for next year's conference dates. Don't miss out on future updates for the 2024 Sustainable Fleet Technology Conference – sign up for the clean transportation newsletter now!