The North Carolina Clean Energy Technology Center (NCCETC) held two events this week as part of National Drive Electric Week and NC State University's Energy Week on campus. 
The Clean Transportation Program at NCCETC hosts Ride & Drive and Vehicle Displays for a variety of audiences, providing an opportunity for attendees to learn more about clean transportation technologies including all-electric and plug-in hybrid vehicles. Dealers and local EV owners will be present to answer questions about their experience driving behind the wheel of an EV. These events support the program's mission to propel the development, awareness and use of alternative fuels and advanced transportation technologies. 
National Drive Electric Week is an annual event held every October to celebrate all-electric and plug-in hybrid vehicles. The national campaign is presented by Plug In America, Sierra Club and Electric Auto Association and consists of hundreds of free events across the United States. 
NC State University is hosting its fourth annual Energy Week September 25-29, 2023. Energy Week is a week of events to increase visibility of the university's energy use, research and opportunity to share a clean energy future. 
Heather Brutz, Director of the Clean Transportation Program, emphasizes, "Hosting in-person events provides a great opportunity for those interested in switching to an EV to ask questions and get hands-on experience with an electric vehicle. We want to give people information about these vehicles so that they are well-informed in the choices they make."
Types of Electric Vehicles & Charging Options
On the automotive market today, consumers can choose from three different types of EVs: all-electric, plug-in hybrid electric vehicles (PHEVs), and hybrid electric vehicles (HEVs). 
All-electric vehicles are also known as "battery electric vehicles" since they use rechargeable batteries to power the electric motor. While electricity production may contribute to air pollution, the U.S. Environmental Protection Agency categorizes all-electric vehicles as zero-emission vehicles because they produce no direct exhaust or tailpipe emissions. 
PHEVs use both batteries and traditional fuel sources such as gasoline or diesel which fuels an internal combustion engine. PHEVs and HEVs are similar in that they have both an electric motor and a gas-powered engine. HEVs, however, use an electric motor to supplement gas-powered engines while PHEVs tend to have a larger battery-pack and electric motor.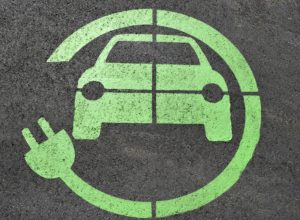 Those who drive EVs have several options when it comes to choosing the electric vehicle service equipment (EVSE) to recharge their batteries. EVSE charging is classified by the power output of the charger, which affects the rate at which the batteries are charged. 
Level 1 charging equipment is able to provide power through a common residential 120-volt (120 V) AC outlet. This type of charging equipment is most commonly used while charging at home or when there is only a 120 V outlet available for use. Although it is the slowest charging option available, if drivers are able to recharge strategically, Level 1 charging may be able to fit their needs.
Level 2 charging speeds up charging time by providing power through 240 V (in residential applications) or 208 V (commonly used in commercial applications) electrical service. Level 2 equipment is widely used for residential, workplace, and public charging stations. Where a Level 1 charger typically supplies about 4 miles of driving range per hour of charge, a Level 2 charger supplies approximately 25 miles of range per one hour of charging.
Direct Current (DC) Fast Charging equipment enables drivers to rapidly charge their vehicles. These DC Fast Charging stations are located along heavy-traffic corridors since they allow for charging to be achieved in minutes instead of in hours. In just 30 minutes of fast charging, 100 to 200 miles of range can be supplied to the vehicle. 
The Alternative Fuels Data Center (AFDC), a resource from the U.S. Department of Energy's Vehicle Technologies Office, provides extensive information about electricity basics, benefits and considerations of using electricity to power vehicles, information on charging stations, vehicles, and more. AFDC also hosts an Alternative Fueling Station Locator which is accessible on their website here.
The Economic & Environmental Benefits of Driving Electric
Fuel What Matters, an initiative of NCCETC and sponsored by the NC Department of Transportation, is an excellent starting point for learning about the benefits of electric and hybrid vehicles. Find out more about the basics here.
Consumers who purchase an EV could benefit from tax credits and incentives for making the green choice. Certain all-electric and PHEVs are eligible for a federal income tax credit of up to $7,500 when purchased new. Drivers also get to coast by traffic in North Carolina and many other states where qualified EVs are permitted to use HOV or carpool lanes, regardless of the number of occupants. This often allows EV drivers to bypass high congestion traffic areas and reduce their commute time.
NCCETC has published a resource for both commercial and public sector customers interested in purchasing an EV or installing a charging station. This guidance document – Electric Vehicles & Electric Vehicle Supply Equipment Incentives in North Carolina – was designed to help customers navigate the variety of direct financial incentives available for EVs and EV infrastructure and planning offered in North Carolina. These incentives are available through federal, state, regional and electric utility funded programs. 
As automotive manufacturers continue to expand the amount of EV models available on the market, the type of EV owner is also expanding. If you're interested in hearing directly from EV drivers themselves, check out this blog post.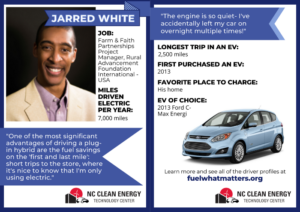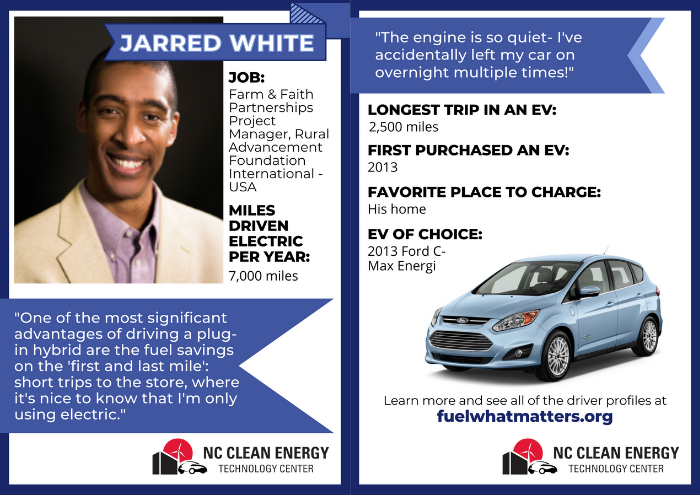 Jarred White's EV of choice is a 2013 Ford C-Max Energi hybrid. White shared, "One of the most significant advantages of driving a plug-in hybrid are the fuel savings on the 'first and last mile'; short trips to the store where it's nice to know that I'm only using electric."
There are many benefits to driving electric, including high-quality performance and the notable quietness of an electric engine, but White also shared this quietness could be a con of owning an EV. "Because the engine is so quiet, I've accidentally left my car on overnight multiple times!" White explained. Explore the entire Electric Driver Profile series with profiles on seven different EV drivers here. 
If you're ready to explore your options for purchasing an EV, you can check out Plug-In America's 2023 Electric Vehicle Guide which includes EV's currently available in the United States.