Media Contact:
Shannon Helm, N.C. Clean Energy Technology Center,
919-423-8340
,
shannon_helm@ncsu.edu
Clean Transportation Demonstration Days
WHAT:  Join the NC Clean Energy Technology Center for a Clean Transportation Demonstration Day this April! Clean Transportation Demonstration Days support Executive Order 80, 246, & 271 and give government entities across North Carolina information and experience with clean transportation technologies. The day will consist of classroom instruction with real-world case study results, hands-on static review, networking, and a closed-course ride and drive for those who wish to participate. View the event flyer here.
WHEN & WHERE: This year, two demonstration days will be hosted, free of charge. 
Tuesday, April 11, 2023 at NC Highway Patrol Training & Driving Facility

308 E Tryon Rd | Garner, NC 27529

Morning Shift 10 a.m.-1 p.m. OR Afternoon Shift 1-4p.m.

Wednesday, April 12, 2023 at Coastal Plains Raceway Park

| 10 a.m.-1 p.m. or 1-4 p.m. | 4744 Richlands Hwy | Jacksonville, NC 28540

Morning Shift 10 a.m.-1 p.m. OR Afternoon Shift 1-4p.m.
WHO: Key speakers and presentations include
Heather Brutz,

Director, Clean Transportation Program, NC Clean Energy Technology Center

Triangle Clean Cities

Sam Spofforth, Clean Cities Project Leader, National Renewable Energy Laboratory

North Carolina Department of Transportation
Presentations will feature topics such as vehicle electrification, idle reduction technologies and other strategies that improve fleet sustainability. 
Registration for the event is required.*  Register online now at go.ncsu.edu/ctdemoday.
*
Note: Registration is only open to government entities and utilities.
WHY SHOULD YOU ATTEND?
Executive Order 80 calls for the State of North Carolina to protect its environment while growing clean energy technologies. Executive Order 246 updates North Carolina's economy-wide carbon reduction emissions goals to align with climate science, reduce pollution, create good jobs and protect communities. EO 246 strengthens North Carolina's commitment to reducing greenhouse gas emissions, increasing the statewide goal to a 50% reduction from 2005 levels by 2030 and achieving net-zero greenhouse gas emissions as soon as possible, no later than 2050.
Classroom instruction will include alternative fuel options, telematics and other new technologies, safety, and more. There will be a diverse display of vehicles such as electric and alt-fuel vehicles, buses, police vehicles, and more. View the graphic below for a preview of the lineup.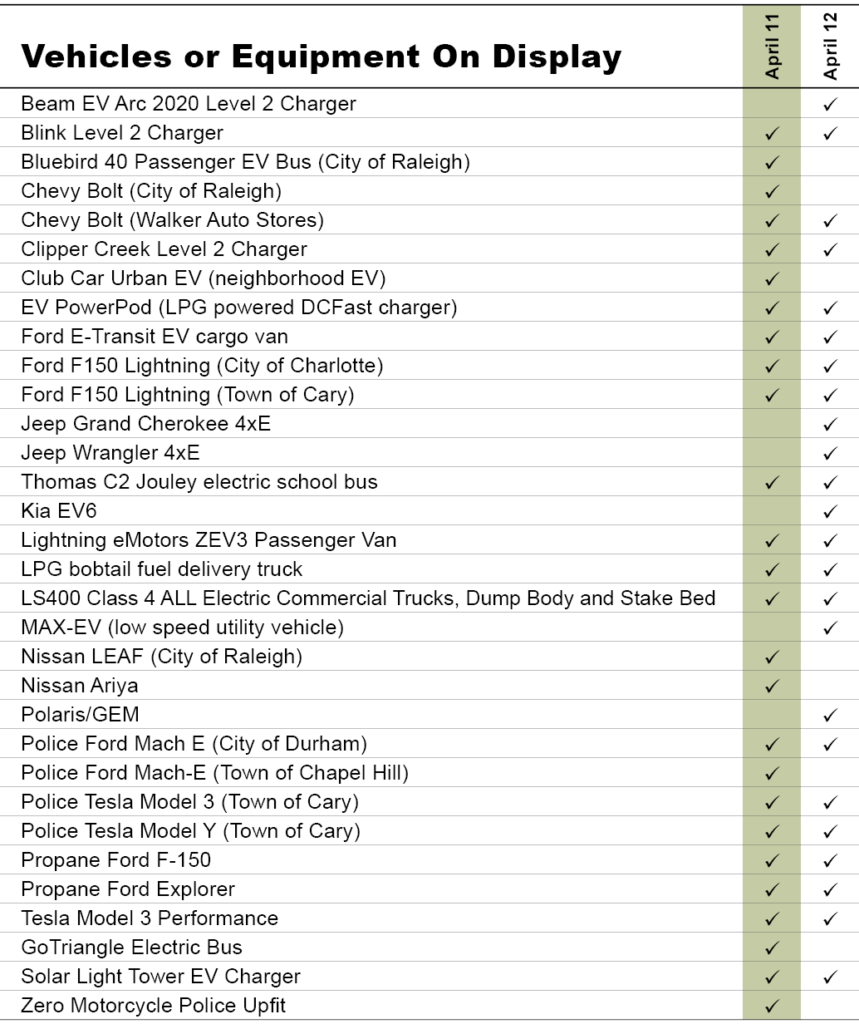 To help minimize wait times during ride & drives, we are offering two shifts to allow more people to participate in the Demonstration Days. You may choose to attend in the morning from 10 a.m. to 1 p.m. or the afternoon from 1 p.m. to 4 p.m. Each shift will begin with 1 hour of classroom instruction and then transition into the hands-on technology static review and ride & drive.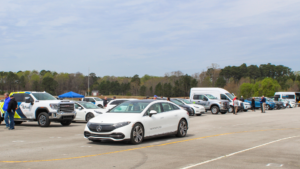 Last year, the Clean Transportation program welcomed more than 190 attendees at a Clean Transportation Demonstration Day in late March 2022 at the NC Highway Patrol & Driving Facility. The event featured a wide range of trucks, cars and other clean transportation technologies on display. Attendees were able to test drive some of the vehicles themselves by taking a lap around the track.
"Demonstration days are always a lot of fun," stated Heather Brutz, Director of the Clean Transportation Program at the NC Clean Energy Technology Center (NCCETC). "They are a great opportunity for government employees to gain hands-on experience and learn more about the benefits of alternative fuel vehicles."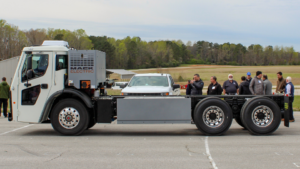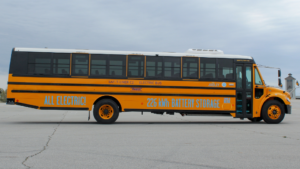 One of the most popular vehicles at the 2022 event was a large, all-electric Mack truck designed to collect trash and manufactured right here in North Carolina. Electric vehicles (EV) such as the Mack truck not only significantly reduce a fleet's carbon footprint with reduced emissions, but also enables quiet operation with a near-silent powertrain.
Other alternative-fuel vehicles on display included the Cary Police Department's Tesla Model 3, Zero Motorcycles, Thomas Built Buses Jouley Saf-T-Liner C2 electric school bus, the City of Durham's bucket truck with a plug-in electric power take-off (PTO) solution by Viatec and Battery Idle Reduction Firetruck, a Jeep Wrangler Hybrid, Chrysler Pacifica plug-in hybrid EV, a ZeroRPM Idle Reduction Ambulance, Ingevity Adsorbed Natural Gas Vehicle, a Volvo XC40 and C40 EV, Lightning Motors Paratransit Shuttle, ebikes, XL Fleet's XLHybrid truck, GFL Environmental Inc.'s compressed natural gas (CNG) Refuse Hauler & Service Truck, and more.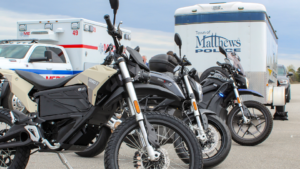 The Matthews Police Department showed off several EV motorcycles. In an interview with WRAL News, Captain Stason Terrell said, "It's an opportunity for us not only to be more in the community, be more visible, but also have that conversation about the environmental side of things and how it's a cleaner fuel vehicle."
In addition to the vehicles on display, clean transportation technologies such as a 100% electric street vacuum cleaner from Glutton® Collect® and Progress Solar's Mobile Solar Light Tower solution displayed the versatility of clean energy applications for all. 
PARTNER WITH THE NC CLEAN ENERGY TECHNOLOGY CENTER
Register to exhibit at a 2023 Clean Transportation Demonstration Day and get the opportunity to show off your vehicle/equipment to hundreds of North Carolina state and local government personnel and NC Utilities involved in vehicle procurement. Maximize exposure by exhibiting at both events on April 11 & 12.
Sponsorship opportunities are also available! Sponsorship includes the opportunity to display vehicle/equipment as a static display and/or as part of the Ride & Drive. Additionally, you have the opportunity to present product information and testimonials/case studies to attendees during the classroom/conference portion of the event (5-10 minute presentation). Then spend the rest of the day at displays and on the track! Learn more about 2023 Sustainable Fleet Technology Conference sponsor and exhibitor opportunities here.