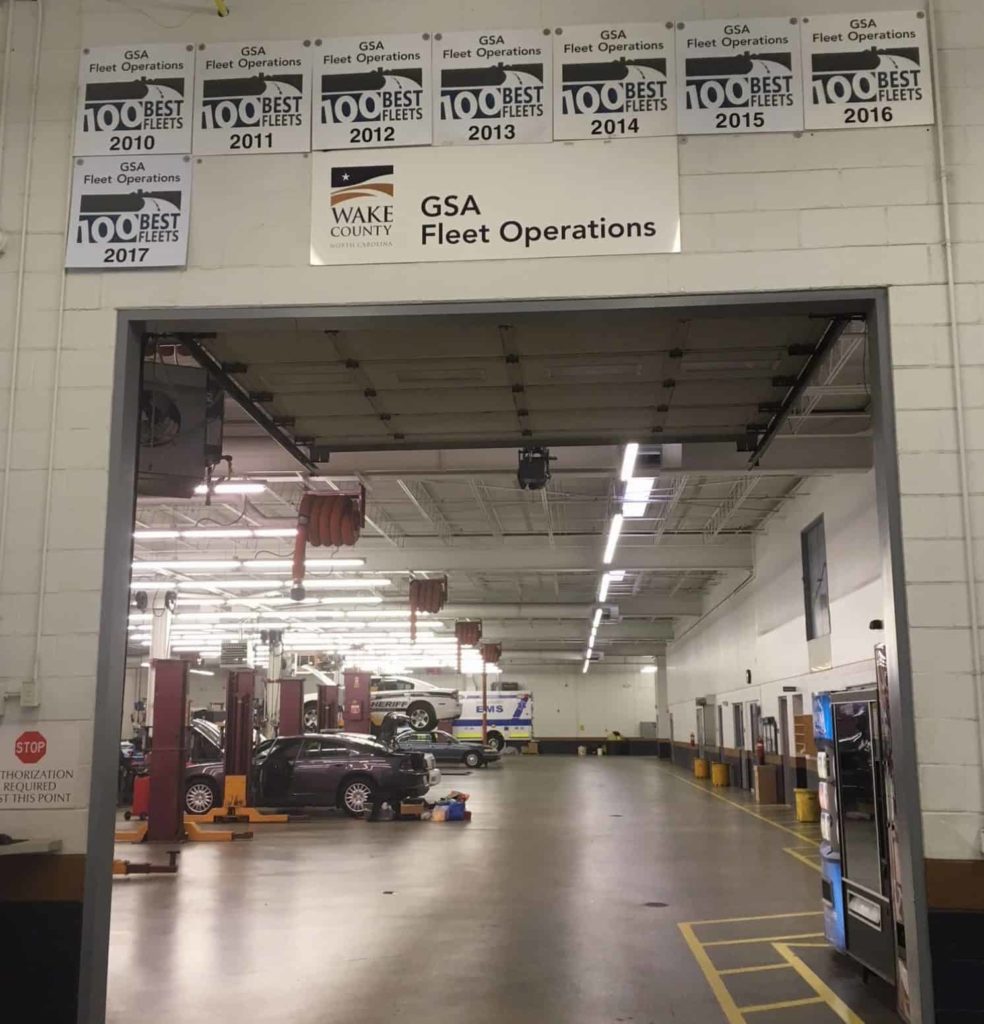 The goals of Wake County's fleet are the same as most: to carry out productive, safe, efficient and sustainable service at the lowest cost possible.
But the smartest and most successful way to achieve that goal, they have found, is by implementing new technology to continuously track data and uncover information.
"It doesn't appear to be moving fast, but there's a lot going on," said Fleet Director Thomas Kuryla as he walked around the vehicle shop at Wake County General Services Center. "Even on slow days when there isn't a lot of mechanical work, there's a lot of planning and data analysis."
Wake County has been on the 100 Best Fleets list every year since 2010, once placing number three out of the country.
There are about 1,000 vehicles in the fleet, including cars, trucks, trailers and boats, with emergency response vehicles representing half.
About 60 vehicles run on diesel, and 20 run on B20 biodiesel, Kuryla said. 400 of their vehicles are E85 compatible. Wake County hasn't purchased new hybrid or electric vehicles in about 3 years, but around 50 hybrid vehicles are currently in the fleet.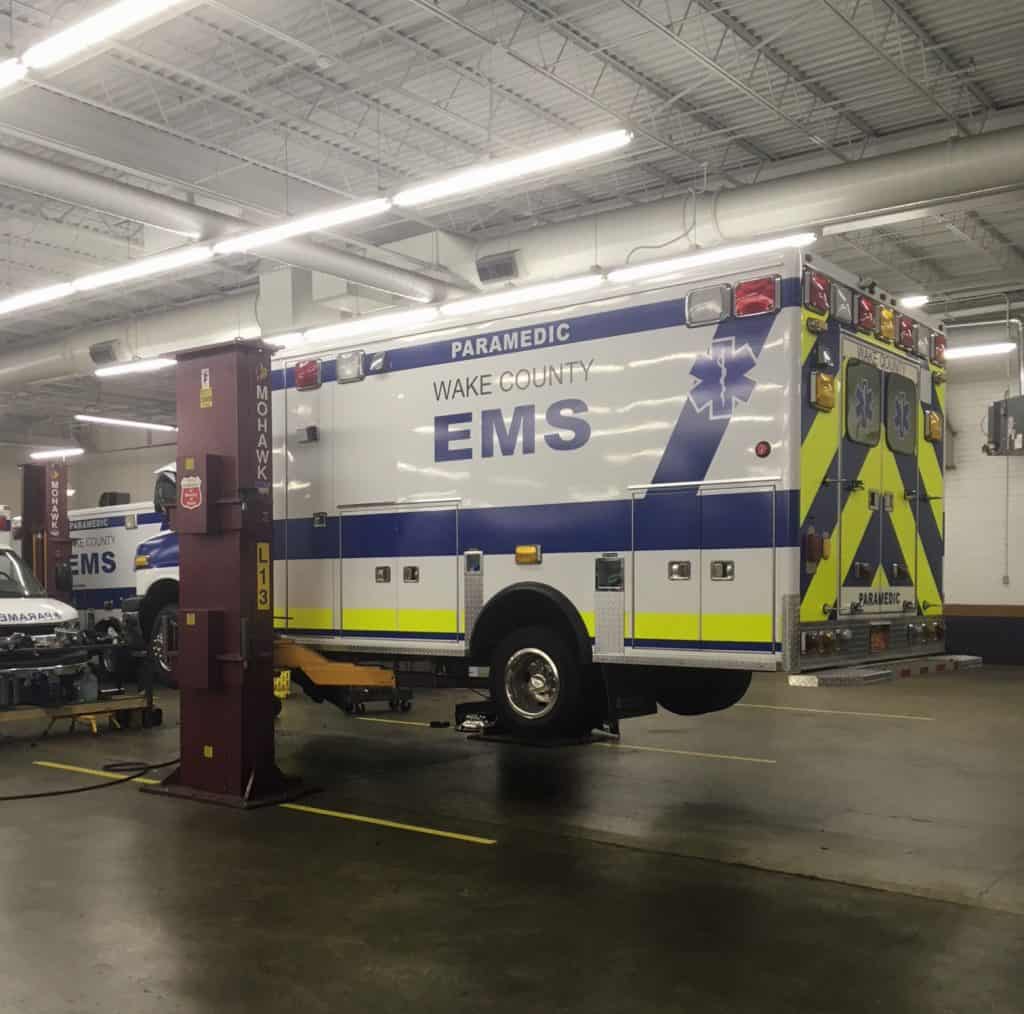 Out of the 1,000 vehicles and 200 that are serviced, there are a total of 10 mechanics.
"Our vehicles are in good enough shape that we don't need as many," Kuryla said.
Wake County has a preventative maintenance program in place that averts as many repairs. Vehicles are also sold with less mileage than most fleets. Many fleets keep their vehicles too long, Kuryla said, which means they're stuck in the shop more for repairs, resulting in more downtown for drivers.
"By keeping our vehicles ahead of the game, we provide more service than other fleets out there," Kuryla said. "People will say, 'No, we can't afford a new car…' They need to think long-term and look at the big picture."
Maintenance in the fleet is also done swiftly.
"At some places, the vehicles will spend two weeks in repair," Kuryla said. "Here, they wait and leave — they're working on it within 15 minutes and they're out in less than an hour unless it's a major repair."
Kuryla has been Wake County Fleet Director since 2002, and he has orchestrated and seen many changes. One of the first adjustments Kuryla recommended was to transform and redesign the service and parts departments so that they were connected, and could communicate openly as a team.
"In a lot of industries, they're battling each other," Kuryla said. "We really wanted them to be teamed together."
Kuryla said a big success Wake County's fleet has had is with telematics, a system that collects data from vehicles when they're on the road to improve efficiency. Telematics tracks the vehicles' locations, miles per hour, time spent idling, starting or stopping too fast, whether or not the driver is wearing his or her seatbelt, and more. Drivers will be alerted with a beep when going beyond their limits, and supervisors are also automatically notified in some instances.
When telematics was first installed on the vehicles, drivers were getting a lot of beeps, Kuryla said. It didn't take long for that to reduce considerably.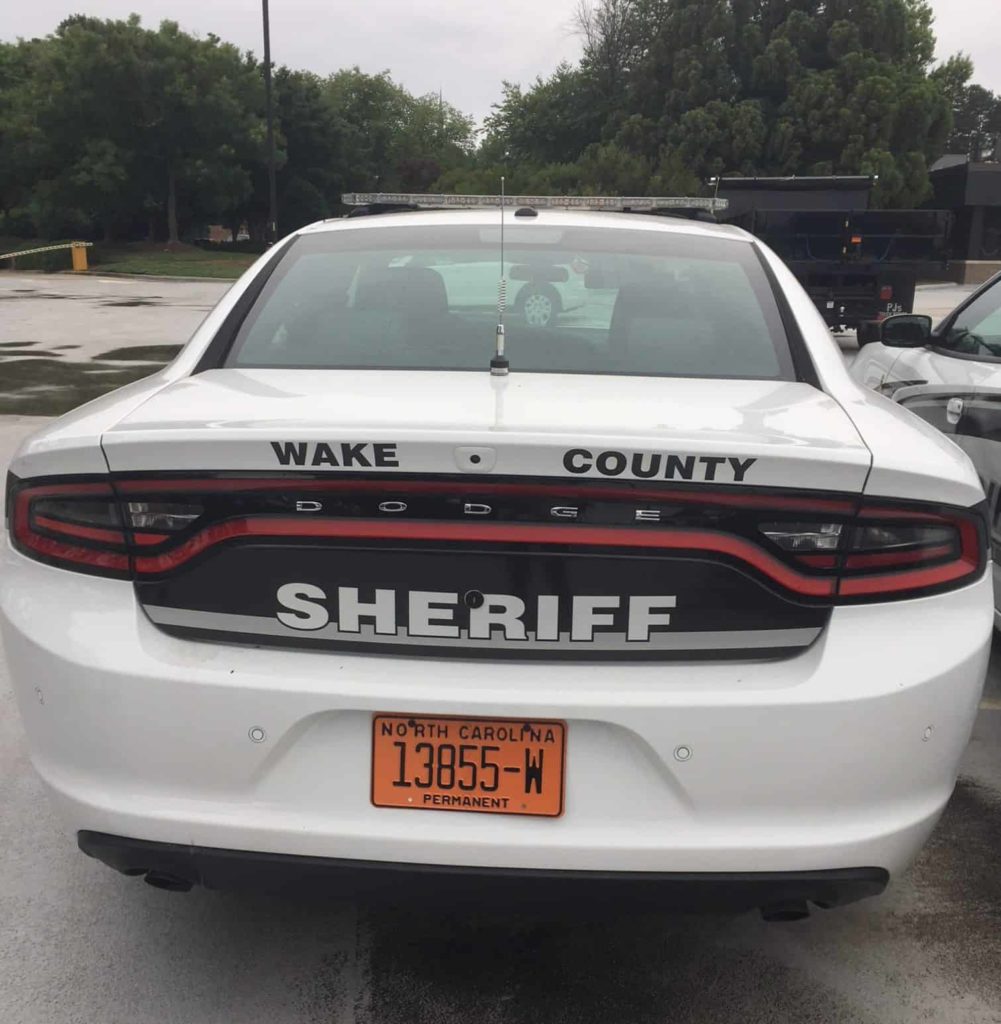 Additional upgrades and changes are still to come.
Recently, the fleet introduced reusable oil filters, which increase the life of oil and keep them from ending up in a landfill. The reusable filters were put on 20 vehicles and tested for over a year. Kuryla plans to have all of their vehicles transitioned within 6 months.
The oil is also tracked with software that automatically changes intervals and notifies departments when the oil needs changing.
This year, they plan to introduce a drive over tread depth tire reader, which will generate data on the pressure and alignment, measuring the tread depth of each tire to decide whether or not it should be replaced.
Kuryla said the biggest challenge for their fleet is a common one — making advancements within the budget.
"We try to do our research and data analysis to justify why we want to do something," Kuryla said. "Like the oil filters. Saying 'I want to spend $75,000 buying filters' – someone would say, 'You're crazy.' But we just spent a whole year testing and found that we'll have that buyback very quick."
Kuryla suggests when trying to implement changes for a fleet, it's helpful to talk to those who will be affected by asking their suggestions and opinions. For example, the new tire depth reader is talked about openly in the shop on purpose, Kuryla said. He hopes to increase interest and encourage discussion. When the oil filters were implemented, the mechanics openly discussed their experience and then helped come up with a better system.
"Get buy-in for everything you do." Kuryla said. "Ask what would you like? What would make your job better? Get them involved. "