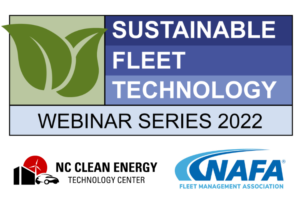 Last month the 2022 Sustainable Fleet Technology Webinar Series concluded after bringing together industry experts and top performing fleet managers for 13 webinar sessions over the course of the year. The Sustainable Fleet Technology Webinar Series (SFTWS), now in its 8th year, is offered through a collaborative partnership between the NC Clean Energy Technology Center (NCCETC) and NAFA Fleet Management Association (NAFA).
The series focuses on sharing real-world use cases and success stories of sustainable fleet operations and strategies. Each webinar session featured in-depth presentations from nationally recognized fleets describing their experience with integrating applications of sustainable fleet technologies and strategies into their fleet as well as the lessons they learned along the way.
"The webinar series showcases the gold standard of fleet sustainability to help others see how clean transportation technologies and practices can fit into their own fleets," said Heather Brutz, Director of the NCCETC Clean Transportation Program.
Driving Fleet Sustainability and Efficiency
Fleet management is dynamic with constant change, so integration of new strategies and technologies is imperative to stay competitive and meet growing demands of customers. The key to successful deployment of these new strategies and technologies is change management and fostering buy-in on all levels of an organization.
The webinar Creating a Culture for Change & Gaining Buy-In explains the basics of change management and features speakers from top fleets that have created a culture that embraces technology, change and continuous improvement. Panelists included Patti Early, Fleet Fuel Operations Manager at Florida Power & Light; Erin Osterroth, Fleet Services Manager for the City of Medicine Hat in Alberta, Canada; Mark Swackhamer, formerly Director of Transportation for Alvin Independent School District in Texas; and Al Curtis, Fleet Services Director for Cobb County, Georgia.
According to Patti Earley, the objective of change management is not to eliminate resistance to change, but to minimize the impact on achieving the desired goal. "Change management is a structured, planned process at both the individual and organizational levels," Earley explained.
Among the fastest growing and most promising developments in fleet management is video telematics. Cameras coupled with other sensors and technologies give fleets the potential to achieve improved safety, driver performance and efficiency. This emerging technology and results from real-world fleet applications were explored in Video Telematics Applications & Benefits.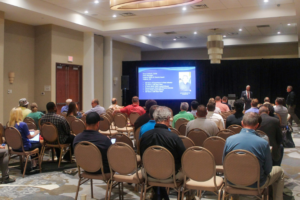 At the 2022 Sustainable Fleet Technology Conference, NAFA announced the winners of the 2022 Green Fleet Awards to honor fleets who have enhanced practices to make a positive impact on the environment. Several of the winners joined NCCETC for a SFTWS session – The Best Practices of the Top Green Fleets 2022 – following the announcement.
Rick Sapienza of NCCETC and NAFA's Chief Executive Officer Bill Schankel joined three of the top five Green Fleets to share their best practices for successful fleet sustainability. "In terms of sustainability, my advice is just to get started," said Sapienza. "And in terms of applying for the awards, it's a good exercise- you will certainly learn something new."
NCCETC is a proud sponsor of the Green Fleet Awards, now in its 15th year of recognizing peak-performing fleet sustainability efforts. The Green Fleet Awards is free to enter and is open to both government and commercial fleets in North America.
Avoiding Potholes On the Road to Fleet Electrification
Public and private fleets across the United States are taking steps to transition away from conventional fuel vehicles, but electrification is a complex and multi-aspect process for fleets with thousands of vehicles or diverse needs. The 2022 SFTWS had several sessions focused on integrating electric vehicle (EV) deployment into long-term fleet planning along with funding opportunities to finance these efforts.
The webinar series kicked off with Integrating Electrification into Fleet Replacement Planning & Right-Sizing. This session covers the basics for identifying candidate vehicles for replacement with a right-sizing analysis to ensure fleets have the optimal number of properly specific vehicles to fulfill their mission.
A fleet right-sizing analysis helps identify when vehicles need to be replaced and how to get the maximum value out of their current assets before replacing them. NCCETC's Clean Transportation staff is able to provide fleet utilization analyses to help fleets understand utilization across their fleet as a first step in fleet right-sizing.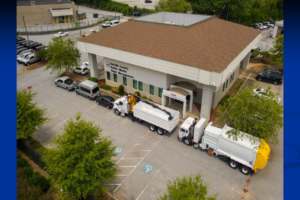 Several EV deployment cases from fleets leading the way in electrification were presented in Avoiding the Potholes in the Road to Fleet Electrification. Philip Saunders from the City of Seattle spoke of the lessons learned from the city's transition to EVs so far and their plans for the future. Saunders was joined by Robert Gordon, Deputy Director of Fleet Management at Dekalb County, Georgia. Dekalb's fleet has over 3600 vehicles – 437 of which are alternative fuel vehicles, according to Gordon.
Another key component of fleet electrification is the charging infrastructure and electric vehicle supply equipment (EVSE) needed to keep EVs running and in service. The Charging Strategies & EVSE Readiness Planning webinar provides an overview of the critical planning required for properly meeting charging needs today, as well as planning for future additions of EVs.
Anne Blair, Policy Director at the Electrification Coalition, shared some of the resources and reflections from the organization's work on charging deployment throughout the country. Blair discussed challenges and barriers fleets face when electrifying before highlighting how leading fleets have created opportunities to address these obstacles and find solutions.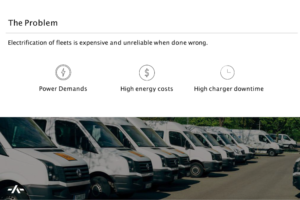 One example of what worked came from San Antonio where Blink and the city formed a partnership to help alleviate some of the cost hurdles to installing charging stations. "They deployed more than 200 Level 2 charging stations, and 3 DC Fast charging stations throughout the city," Blair noted. She said that these examples speak to how these partnerships mitigate the high cost of deploying charging infrastructure while also meeting the needs of the communities these chargers are installed in.
SFTWS 2022 also highlighted the use case scenarios where the energy storage capacity of electric vehicle assets could be used for cost avoidance or even a potential revenue stream. Those interested can learn more in The Economic Value Propositions to Make the Business Case for Bi-Directional Charging.
Other session topics featured in the 2022 webinar series included:
To view all of the past webinars and sessions from NCCETC's Clean Transportation program, Sustainable Fleet Technology Webinar Series, as well as the Sustainable Fleet Technology Virtual Conference series and more, click here.
The NC Clean Energy Technology Center, NAFA Fleet Management Association and The 100 Best Fleets are proud to offer sponsorship opportunities for the online Sustainable Fleet Technology  Webinar Series 2023. Note that there are a limited number of sponsorship opportunities for the SFT Webinar Series.
If you are interested in becoming a sponsor or learning more about partnership opportunities, please contact Heather Brutz at hmbrutz@ncsu.edu for more information.
Stay tuned for updates about the 2023 Sustainable Fleet Technology Webinar Series online at www.sustainablefleetexpo.com.
Thank you to the sponsors who made the 2022 SFTWS possible.