North Carolina students from kindergarten through high school are invited to submit their artwork for a chance to be featured on billboards across the state!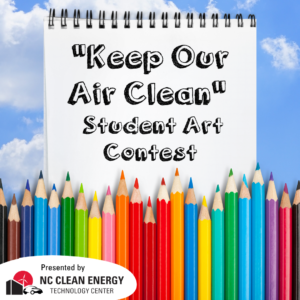 This Earth Day, you can show us how you help keep the air clean! 
The North Carolina Clean Energy Technology Center (NCCETC) recently announced the 5th Annual "Keep Our Air Clean" Student Art Contest will begin accepting submissions on Monday, March 14, 2022. Students residing in North Carolina from kindergarten through high school can submit their artwork focused on the theme of actions that individual families can take to reduce the amount of air pollution from vehicles. Before the contest launches next week, NCCETC wanted to share best practices for students to use so their artwork can shine through in their submissions.
ABOUT THE "KEEP OUR AIR CLEAN" STUDENT ART CONTEST
Heather Brutz, Finance & Operations Manager of the Clean Transportation Program at NCCETC, and leader of the Student Art Contest, said her goals were to educate the public about steps we can take to improve air quality, as well as engage young people's creative talents to help get the word out.
Students are asked to create art focused on actions that people can take to reduce air pollution from vehicles and help keep the air clean. Examples include walking, biking, using public transportation, carpooling, using biofuels, electric vehicles, and more. You can learn about the alternatives at cleantransportation.org or fuelwhatmatters.org. 
See some examples from students whose artwork has won in the past: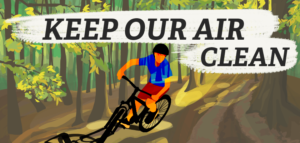 Ashleigh Smith's artwork was selected as the winning high school submission in the 2021 Student Art Contest for her creative combination of personal storytelling and visual skill to portray how she keeps our air clean. 
Smith featured a greenway near her house that she often visits with her family in her submission. "I was inspired by that greenway and my brother's love for mountain biking to create a piece that incorporated both and displayed a love for the beauty of nature and the outdoors, which will hopefully help convince people to help keep their air clean," Smith said.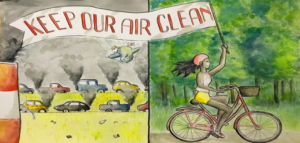 In 2019, Adriana Ryder's artwork was the middle school winner for the Student Art Contest. Ryder focused on reducing pollution from driving in her submission. She explained, "Car-based pollution is one of the most common ways we are poisoning our air. Instead of driving, we could walk or bike- not only will it be keeping our air clean, but it is good exercise!"
Both Smith and Ryder's artwork convey the "keep our air clean" theme with engaging subjects that show how someone can support it themselves.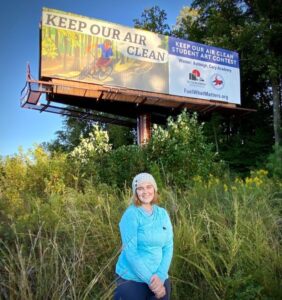 Since the winning artwork is displayed on a billboard, students should try to keep their artwork clear and uncluttered to make it easily comprehensible from a distance. A clear and captivating subject can also aid a student in receiving more votes during the public voting period NCCETC hosts after submissions close. Last year, Smith's artwork (pictured to the left; photo originally from Cary Academy) was the most popular for high school submissions and gained over 300 votes from the public. 
It is also recommended that students use bright or high-contrast colors to make their artwork clear. Drivers passing by billboards on the highway only have a few seconds to grasp the message, so keeping the focus simple will make the artwork more effective.
GUIDELINES & SPECIFICATIONS
The winner will be chosen based on:
Relevance and appropriateness of the message, as determined by the contest judges

Visual design, as determined by the contest judges

Public votes on our

Facebook account
ARTWORK SPECIFICATIONS
Artwork in a more horizontal rectangular shape (about the shape of a billboard) is recommended.
Recommended dimensions:
400h x 840w pixels at 72 ppi

400h x 1400w pixels at 72 ppi 

Save as JPG, PNG or BMP at maximum quality in RGB mode
Note: Make sure to leave space in the submission to include the "Keep Our Air Clean" tagline on the final billboards if it is not incorporated into your artwork.
RULES
Artwork should focus on actions that people can take to reduce air pollution from vehicles.

Please make artwork family-friendly, non-partisan and non-copyrighted.

Only one entry per student is allowed and all submissions must be made via the submission form or by email.

Teachers may submit artwork on behalf of their students through email or the submission form; all artwork submitted must return a signed

permission form. 

Artists who are over 18 or parents/legal guardians submitting on behalf of their children via email must include a signed

permission form

for each submission. 
The official link and email to submit photos will be posted on March 14! Stay tuned on www.facebook.com/NCCleanTech and www.FuelWhatMatters.org!