For Immediate Release
Media Contact: Shannon Helm, 919-423-8340, shannon_helm@ncsu.edu
Project Contact: Heather Brutz, hmbrutz@ncsu.edu OR Rick Sapienza, 919-515-2788, resapienza@ncsu.edu
2022 Clean Fuel Advanced Technology (CFAT) Project Grant Funds Available Now
Over $1,500,000 to be awarded for transportation-related emission reductions
Raleigh, N.C. (May 12, 2022) – The North Carolina Clean Energy Technology Center (NCCETC) at North Carolina State University announces the following request for proposals (RFP) through the 2022 Clean Fuel Advanced Technology (CFAT) project. The 2022 initiative will offer $1.5 million, focused on reducing transportation-related emissions, and supported with federal Congestion Mitigation Air Quality funding from the N.C. Department of Transportation (DOT). The primary purpose of the CFAT project is to reduce transportation-related emissions in 24 eligible North Carolina counties. 
Project proposals will be limited, none higher than $300,000 and none lower than $5,000. Applications will be due Monday, August 1, 2022. This will likely be the only solicitation for 2022. Learn more here. 
Projects located in the following counties are eligible for CFAT funding: Cabarrus, Catawba, *Chatham, Davidson, Davie, Durham, Edgecombe, Forsyth, Franklin, Gaston, Granville, Guilford, *Haywood, *Iredell, Johnston, Lincoln, Mecklenburg, Nash, Orange, Person, Rowan, *Swain, Union, Wake, (*Represents partial counties). 
Projects for electric vehicle charging stations (EVSE) will be accepted within all 100 counties.
*Available funds: $1,500,000
Maximum per project award: $300,000
Minimum per project award: $5,000
Application deadline: July 1, 2022
Project period: December 5, 2022 – September 30, 2024
Click here for the 2022 CFAT Request for Proposals
Click here for the CFAT RFP FAQs
Click here for the 2022 CFAT Budget Worksheet
Click here for the 2022 CFAT RFP Application
Click here to download a guidance document with resources for how to get ready for transportation electrification and where to find detailed guides for different aspects of building EV charging infrastructure.
Click here and here to learn about previous successful CFAT projects
NOTE: Applications should be emailed to
CFAT_grants@ncsu.edu
.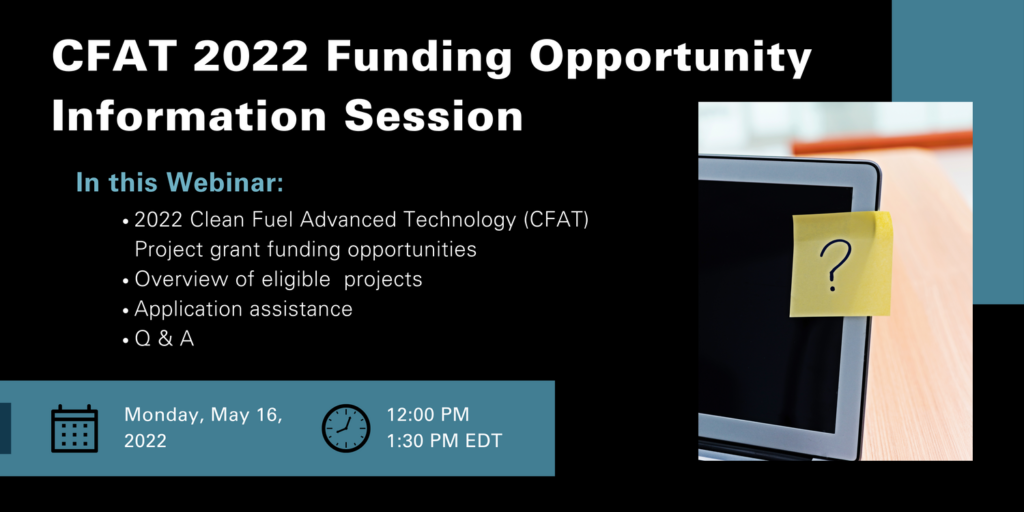 NCCETC will host a CFAT 2022 Informational Webinar from 12:00 p.m. to 1:30 p.m. Monday, May 16, 2022. The free webinar will present an overview of eligible projects and have Q&A to assist with application submission. Learn more and register for the webinar here.
View examples of prior successful CFAT project proposals in 2018 and 2019.
ABOUT THE N.C. CLEAN ENERGY TECHNOLOGY CENTER
The N.C. Clean Energy Technology Center, as part of the College of Engineering at North Carolina State University, advances a sustainable energy economy by educating, demonstrating and providing support for clean energy technologies, practices and policies. It serves as a resource for innovative, sustainable energy technologies through technology demonstration, technical assistance, outreach and training. For more information about the N.C. Clean Energy Technology Center, visit:
http://www.nccleantech.ncsu.edu
. Twitter: @NCCleanTech