Clean transportation has the power to get you where you want to go! 
The North Carolina Clean Energy Technology Center at NC State University is here to remind you that you can find increased independence from fuel– even if you own or drive a gasoline powered vehicle. 
Pollution from gasoline-powered vehicles is a major cause of health problems such as asthma. Everyone can benefit from clean air and, no matter who you are, there are actions you can take to reduce the amount of pollution caused by cars. You can help make a difference today by adopting clean transportation technologies and behaviors.
There are a wide variety of clean transportation technologies and behaviors available for nearly every application and lifestyle. If you have questions about which clean transportation option is best for you, Fuel What Matters is here to help you figure out the option best suited for your needs and interests.
Reduce Fuel Consumption
The U.S. Energy Information Administration (EIA) found Americans used about 135 billion gallons of gasoline in 2021, including 134.83 billion gallons of finished motor gasoline – that's about 369 million gallons per day. Additionally, total gasoline consumption accounted for about 58% of transportation sector total energy consumption and 16% of U.S. total energy consumption, and 45% of total petroleum consumption.
Light-duty vehicles account for about 91% of all gasoline consumption in the United States, according to the EIA. Most gasoline is used in cars, sport utility vehicles, recreational vehicles and boats, light trucks, and motorcycles. Luckily, you can help reduce fuel consumption by changing your driving behaviors and improving your driving efficiency.
EFFICIENT DRIVING
If you are in the driver's seat, you can learn how to adapt your driving behaviors to have a positive impact on fuel economy and adopt techniques that will save you fuel and money. 
Slow Down and Drive Conservatively

Combine trips

Reduce Vehicle Load

Get Direct Feedback

Observe the Speed Limit

Avoid Excessive Idling

Use Cruise Control
The Alternative Fuels Data Center (AFDC), a resource of the U.S. Department of Energy's Vehicle Technologies Office, has more information about techniques for drives to conserve fuel. You can also visit FuelEconomy.gov for information about driving efficiently.
RIDESHARING & CARSHARING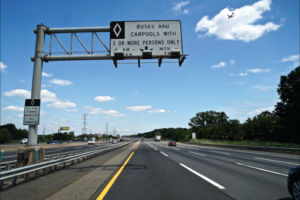 Rideshare programs help connect people traveling to the same or similar destinations so that they can travel together whereas carsharing is a form of shared vehicle ownership which provides members with vehicles for personal use without the costs and commitment of individual car ownership. 
Some local and regional governments provide incentives to encourage ridesharing, such as access to high occupancy vehicle (HOV) lanes, discounted fees on roads or lanes, special parking privileges for vehicles with multiple passengers, or tax breaks for companies with a high level of pooling among employees.
To learn more about employee rideshares, ridematching systems, ridesharing resources, and carsharing programs, visit the AFDC website.
Explore Alternative Transportation Options
Alternative transportation options are a great way to save fuel, improve environmental health and even improve your personal health. Some of these options even require little to no upfront costs. According to the American Public Transportation Association, a household can save nearly $10,000 by taking public transportation and living with one less car. 
Clean transportation options such as biking, riding transit and walking can help to improve the air quality in areas of high congestion. ​​WalkBikeNC.com provides resources on biking in North Carolina, including an interactive map to explore regional bike routes as well as nearby destinations.
Use Alternative Fuel 
Alternative fuels are cleaner than regular gasoline or diesel. As AFDC explains, more than a dozen alternative fuels are in production or under development for use in alternative fuel vehicles and advanced technology vehicles. Using alternative fuels including electricity and advanced vehicles instead of conventional fuels and vehicles helps the United States conserve fuel and lower vehicle emissions. 
All-electric vehicles use a battery pack to store the electrical energy that powers the motor. According to the AFDC, although electricity production may contribute to air pollution, the U.S. Environmental Protection Agency categorizes all-electric vehicles as zero-emission vehicles because they produce no direct exhaust or tailpipe emissions.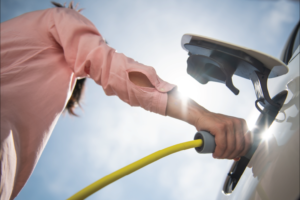 Plug-in hybrid electric vehicles (PHEVs) use batteries to power an electric motor, as well as another fuel, such as gasoline or diesel, to power an internal combustion engine or other propulsion source. PHEVs can charge their batteries through charging equipment and regenerative braking. PHEV fuel consumption is dependent on the distance driven between battery charges so it is best to consistently charge the vehicle to maximize the electric benefits.
Today's hybrid electric vehicles (HEVs) are powered by an internal combustion engine in combination with one or more electric motors that use energy stored in batteries. HEVs combine the benefits of high fuel economy and low tailpipe emissions with the power and range of conventional vehicles.
The electric vehicle (EV) market is rapidly growing as transportation electrification paves the way towards an emissions-free future. Drivers who purchase EVs are eligible for tax credits and incentives for making the green choice. Some all-electric and plug-in hybrid vehicles purchased new are eligible for a federal income tax credit of up to $7,500. In North Carolina and many other states, qualified EVs may use HOV or carpool lanes, regardless of the number of occupants, allowing them to bypass high congestion traffic areas. 
NCCETC published a resource for both commercial and public sector customers interested in purchasing an EV or installing a charging station. The new guidance document – Electric Vehicles & Electric Vehicle Supply Equipment Incentives in North Carolina – will help customers navigate the variety of direct financial incentives for electric vehicles (EVs) and supporting EV infrastructure and planning offered throughout North Carolina. Incentives are available through federal, state, regional and electric utility funded programs. 
Renewable energy can also help diversify the nation's reliance on petroleum products. Coming from sources that are naturally replenishing but flow-limited, renewable resources are virtually inexhaustible in duration. Renewable fuels such as ethanol and biodiesel are often domestically produced, making them more accessible and reducing transportation costs for businesses and consumers.
We can all take steps to reduce pollution from cars and trucks. All of the options mentioned above may not work for you all the time, but reducing your dependence on gasoline will ultimately help avoid more pollution from vehicles. Get the basics and find resources for you, your family or work to learn how clean transportation can get you where you want to go.