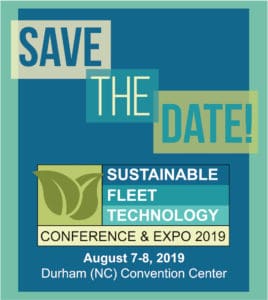 Save the date for the 3rd annual Sustainable Fleet Technology Conference, August 7 & 8, 2019 in Durham, NC! The conference provides an opportunity for fleets and transportation professionals to experience the latest vehicle technology, tools, and resources designed to increase efficiency and reduce emissions. The event will include keynote presentations, 50+ panelists, breakout sessions, indoor vehicle/equipment display, and plenty of networking opportunities. Pre-conference events will take place August 6, which will include the Green Fleet Awards Forum along with the NC Smart Fleet and Mobile Care Awards!
Register online now
Check out the Sponsor & Exhibitor Information Guide to learn more about options for exhibiting or sponsoring
Share your ideas for breakout session topics by responding to the Call for Presentations
Who should attend?
Public & Private Fleet Managers
Purchasing Officials
State Government Leaders
Municipal Government Officials
Non-Profit Stakeholders
Clean Cities Coalitions & Stakeholders
Alternative Fuel Trade Organizations
Sustainability Managers
Academic Leaders & Researchers
Attendees can learn & share about:
Alternative Fuels (including biofuels, CNG, electric, propane, renewable diesel)
Advanced Vehicle Technologies
Motor Fleet Management
Vehicle Sharing Technologies
Idle Reduction
Vehicle Right Sizing
Eco-Driving
Autonomous Vehicles & Future Technologies
Stay tuned for more updates! For more information, visit the website, and contact Allison Carr at akcarr@ncsu.edu or 919-515-9781 for any questions.