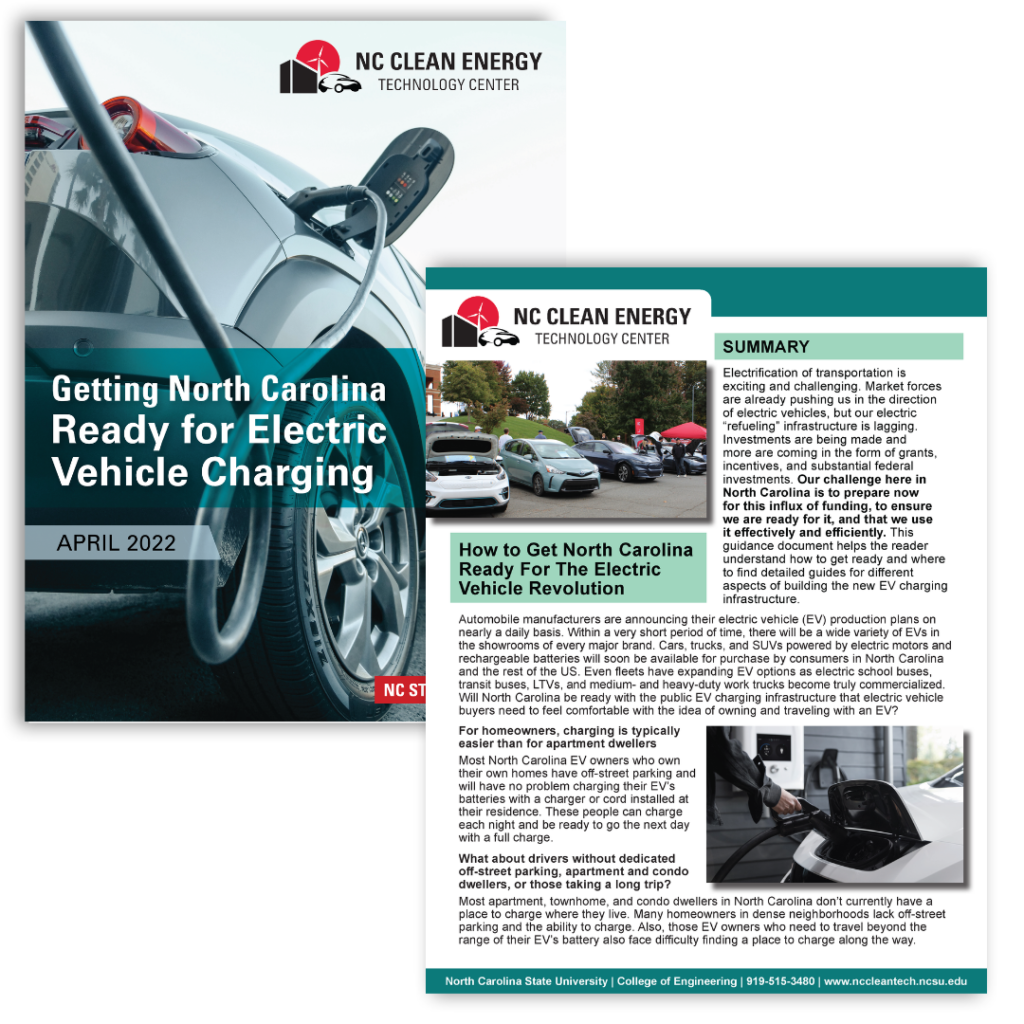 Electrification of transportation is exciting and challenging. Market forces are already pushing us in the direction of electric vehicles (EV), but our electric "refueling" infrastructure is lagging. Public and private investments are being made and more are coming in the form of grants, incentives, and substantial federal investments. In North Carolina alone, VW Settlement funds will bring ~$10 million this year.  And the Bipartisan Infrastructure Law (BIL) National EV infrastructure program (NEVI) will invest more than $109 million each year over the next five years in North Carolina.  
Now, our challenge here in North Carolina is to prepare for this influx of funding, to ensure we are ready for it, and that we use it effectively and efficiently. This guidance document helps the reader understand how to get ready and where to find detailed guides for different aspects of building the new EV charging infrastructure.  
There are many many "guides" already published, so we sorted through them to find the best and give pointers to them all. Now, you can easily find the best resources for you in our guide to the guides: Getting North Carolina Ready for Electric Vehicle Charging. We encourage local government planners, managers, fleet officers, and finance & purchasing administrators to be aware of this "guide to the guides."
Let's get ready!
What You'll Find in The Guide
Getting North Carolina Ready for Electric Vehicle Charging
covers:
Charging for homeowners

Charging for renters (apartment, townhome and condo dwellers)

Charging at work

The state of EV charger deployment in North Carolina

Locally-sourced North Carolina EV charging guides

Links to several valuable guides from organizations like:

The U.S. Department of Transportation

The Cadmus Group (in collaboration with the U.S. Department of Transportation)

Advanced Energy

Plug-In NC 

The City of Raleigh

Sourcewell

NC Department of Administration

North Carolina Sheriff's Association