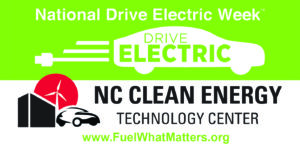 National Drive Electric Week starts this month, September 23 through October 2, 2022! National Drive Electric Week, or NDEW, is an annual event in the United States celebrating all-electric and plug-in hybrid vehicles. The national campaign is presented by Plug in America, Sierra Club and Electric Auto Association and consists of hundreds of free events across the nation.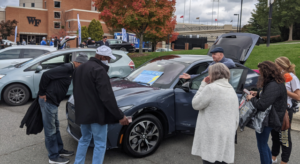 The NC Clean Energy Technology Center (NCCETC) is kicking off this year's National Drive Electric Week at the Wake Forest versus Clemson University football game Saturday, September 24. Before the game begins, fans are invited to join the NCCETC for a tailgate and plug-in electric vehicle (EV) car show at Truist Field on Wake Forest University's campus. The following Thursday, September 29, NCCETC is hosting another EV car show and demonstration with test drives at Venture Plaza on NC State's Centennial Campus. 
National Drive Electric Week began in 2011 to provide free, helpful and in-depth information for those beginning their electric vehicle journey. Today, more than two million EVs have been sold in the United States, and 90 percent of EV drivers report they will purchase another EV for their next vehicle, according to a recent survey conducted by Plug In America. 
NDEW events help spread awareness about the benefits of driving electric, including decreased emissions, fuel savings and enhanced performance of electric vehicles. Thousands of North Carolinians attend National Drive Electric week events each year, and there are currently ten individual events currently scheduled for this year across the state.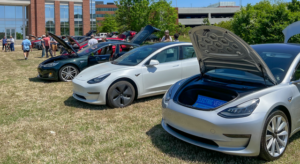 The Clean Transportation Program at NCCETC has participated in the national campaign for several years now and, in 2021, sponsored two in-person EV ride and drive events in addition to two virtual webinars on electric vehicle topics including innovative charging solutions and idle reduction. 
"Every year during National Drive Electric Week events, we give people the opportunity to get their hands on an EV and ask EV owners all of their questions," explained Heather Brutz, Clean Transportation Program Director for NCCETC. "When they leave, they are confident in making their next vehicle purchase electric and even come back to showcase their new EVs to get others to make the switch at future events!"
Learn more about upcoming events and register to attend by visiting the links listed below. 
Those interested in going electric can also explore a variety of EVs and their drivers' experiences driving electric through our Electric Driver Profile series. NCCETC previously sat down with seven EV drivers to hear about the benefits of going electric.
Our newest EV Driver Profile features Kelly Witter, a recent EV owner who shared, "EVs are quiet, have fewer moving parts and reduce air pollution and fossil fuel use. Plus, charging at public stations is more enjoyable than gas stations and I can be productive while I charge."